The discovery suggests that Raphael's idea was to start the setting of the mural with "double pilasters" – real and illusory.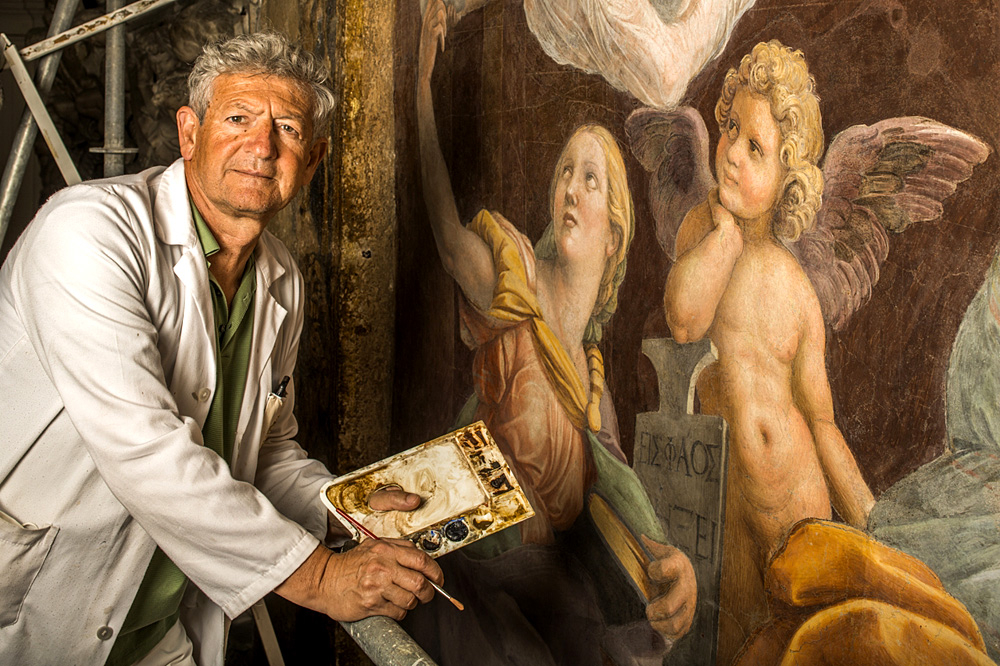 Antonio Forcellino. Source: RCS Mediagroup/Fondazione Corriere/TAN
In May 2020, after restoration works in the Chigi Chapel resumed, architect and restorer Antonio Forcellino discovered two pilasters on the mural, presumably created by Raphael, – his last work, the Art Newspaper reports.
Forcellino said: "Two pilasters on the sides of the mural were covered with plaster most of the time. When I began to remove the plaster I saw gold, the most representative symbol of  Agostino Chigi's wealth. Then traces of grotesque decorations depicting a satyr holding a basket became visible on the left pilaster."
The discovery suggests that Raphael idea was to start the setting of the mural with double pilasters – real and illusory – a feature later adopted by Baroque artists. Forcellino believes the discovery gives grounds to disagree with some art historians who claim Raphael did not end the mural. "The discovery is important, because it is the last work by the greatest master," the restorer says.
Raphael was working on the mural above the entrance arch depicting four sibyls surrounded by angels from 1513 to 1514. The chapel in the Santa Maria della Pace church in Rome is dedicated to the artist's friend and protector – Sienese banker Agostino Chigi.
It is the second important discovery related to Raphael made in the past months. In May, two figures in the Hall of Constantine were attributed to Raphael, though it was earlier believed that all works in the hall were created by his pupils based on the artist's sketches.
Subscribe to our mailing list: