Anti-corruption protests, widely supported by the cultural sector, have been continuing since early April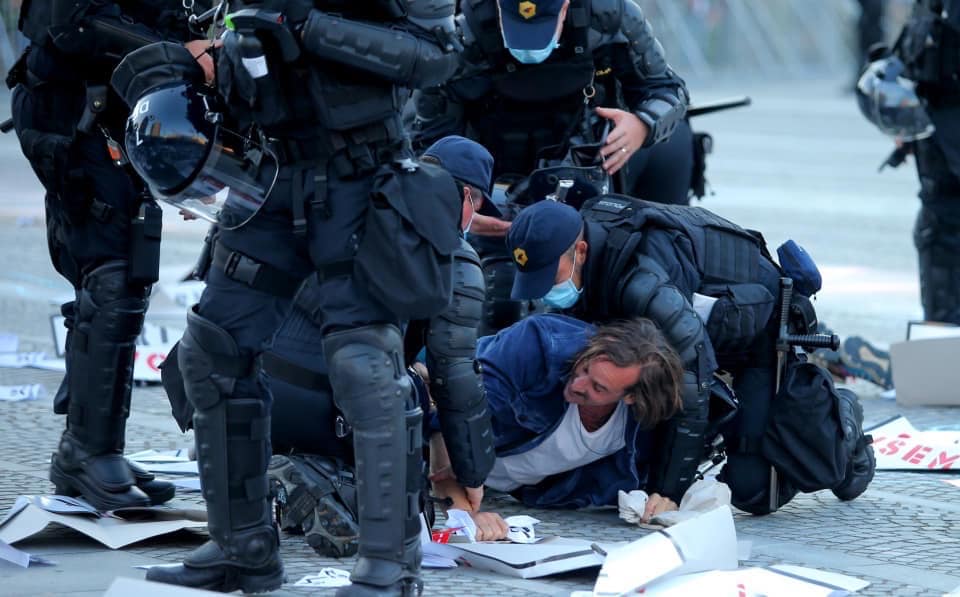 Police officers arresting Jasa Mrevlje Pollak. Source: Jože Suhodolnik/Artforum
On June 12, seven people were held by the police in the protests against Slovenian prime minister Janez Jansa. Among those detained was artist Jasa Mrevlje Pollak, who represented Slovenia at the Venice Biennale in 2015, Artforum reports.
The artist tried to jump the security fence to help his friend, who pushed was to the ground by police officers. The artist was taken into a police vehicle and released without charges after 30 minutes.
On June 12, around 5,000 people gathered in Republic Square to protest against the centre-right government that tried to increase police powers during the COVID-19 pandemic, used anti-migrant rhetoric and curbed freedom of press.
According to the Associated Press, seven persons were detained on Friday for attempting to "pull down a security fence" outside the parliament building in Ljubljana. All of them were later fined for violating public orders.
Since early April, thousands of people have been taking to streets for weekly demonstrations against state corruption.
Protesters accuse officials of favouring companies in the sale of personal protective equipment, including face masks and ventilators.
Subscribe to our mailing list: