Raphael was known as the author of two oil paintings in the Vatican, but the exact pieces have not been discovered until recently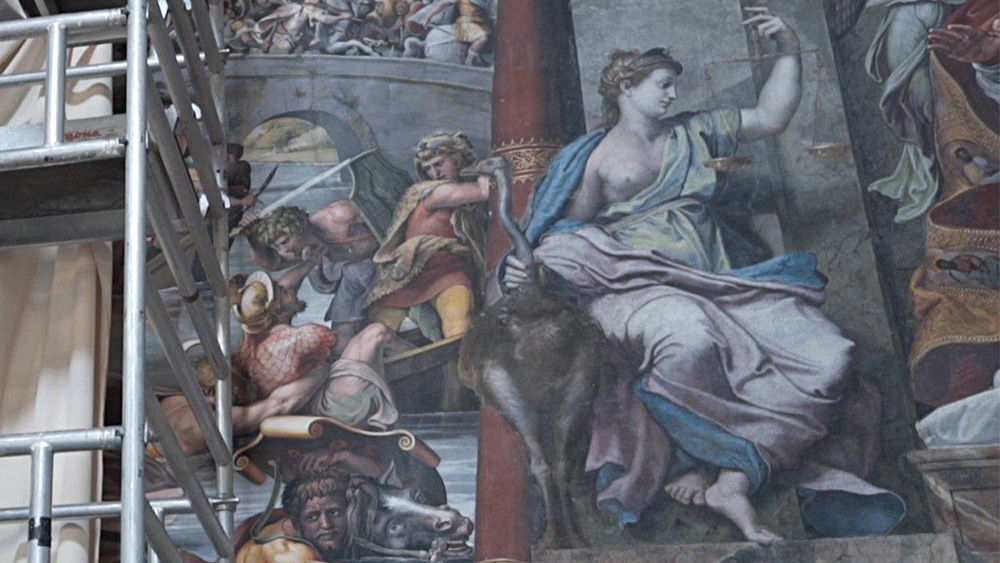 Allegory of Justice. Raphael, the Hall of Constantine in Raphael Rooms in the Vatican. Source: the Vatican Museums/TAN
The paintings in the Hall of Constantine were attributed to Raphael during the restoration in the Vatican Palace that began in 2015 and was completed on May 13, 2020, the Art Newspaper, learnt from Vatican News.
Vasari mentioned that Raphael painted two figures somewhere in the Vatican rooms while experimenting with oil paint. In 2017, when restoration artists cleaned the wall in the Hall of Constantine, they found out that unlike other figures, the figures of Justice and Friendship were painted in oil.
The characteristic brushstrokes confirmed that Raphael was the author of the allegories. The paintings are the artist's latest works created in 1519 shortly before his death.
The frescoes were earlier believed to have been painted by Raphael's pupils Giulio Romano and Giovan Francesco Penni based on sketches by Raphael. Nobody has suspected Raphael was the real author, because the paintings became darker in the course of time.
Researchers suggest Raphael planned to paint the entire Hall of Constantine in oil but died on April 6, 1520, after completing just two figures. His students didn't dare finish the experiment and used the secure and reliable fresco method.
Results of the restoration were to be presented on April 20 at an international conference to celebrate the 500th anniversary of Raphael's death, but the event was cancelled due to the COVID-19 pandemic.
The paintings were unveiled on May 13, in the presence of the director of the Vatican Museums, Barbara Jatta, and about 20 other people, including technicians and experts. The works will be open to the public when the Vatican Museums reopen.
Subscribe to our mailing list: