"The demolition of the building complex would not only constitute a significant loss of Norwegian architectural heritage, but it would also render any attempt to salvage or reposition Picasso's site-specific murals elsewhere unfortunate"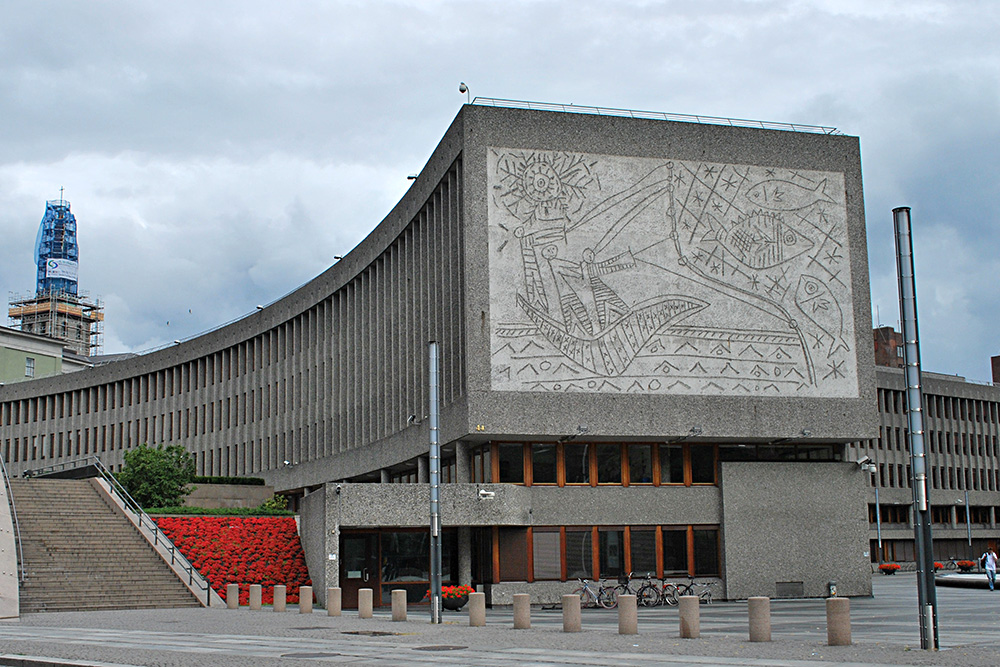 The Fishermen on the Y-Block's façade, Carl Nesjar based on drawings by Pablo Picasso. Oslo, Norway. Source: Helge Høifødt/Wikimedia Commons/TAN
The Museum of Modern Art in New York (MoMA) stepped into conflict over the planned demolition of a government building in Oslo, decorated with murals conceived by Pablo Picasso, the Art Newspaper reports.
Martino Stierli, chief curator of architecture and design, and Ann Temkin, chief curator of painting and sculptur, sent a letter to the Norwegian government, asking to "reconsider the approved decision for the demolition".
Concrete murals of the brutalist Y-Block designed by architect Erling Viksjø are decorated with murals designed by Pablo Picasso: The Fishermen on the building's façade and The Seagull located in the lobby. The murals were executed by Norwegian artist Carl Nesjar. Three smaller works by Picasso and Nesjar can be found in a nearby 1958 building also designed by Viksjø.
The government proposed the demolition of the Y-Block in 2014, saying that maintaining an empty building was unsustainable. Though the current plan supposes the relocation of the sgraffito, but a number of heritage bodies including the National Trust of Norway and Europa Nostra criticise the decision.
"The building was fenced in ten days ago, and The Fishermen was covered up. Workers at the site started drilling, but it's worrying as once they start moving the mural, it will crack. Nobody has explained how they will do it. The art is the wall," Gro Nesjar Greve, the daughter of Carl Nesjar, told the Art Newspaper.
MoMA's representatives addressed the letter to Norway's prime minister Erna Solberg and minister for the environment Sveinung Rotevatn.
"We are writing to express our grave concern regarding the approved demolition of the Y-block governmental building… the demolition of the building complex would not only constitute a significant loss of Norwegian architectural heritage, but it would also render any attempt to salvage or reposition Picasso's site-specific murals elsewhere unfortunate," the letter says.
Tone Selmer-Olsen of Oslo Architectural Association emphasises that MoMA's intervention demonstrates "that the Y-Block is not just one of our country's most unique Modernist works, but that it is also part of the world's architecture and art history".
Subscribe to our mailing list: