He also stole an artwork and an employee's cowboy hat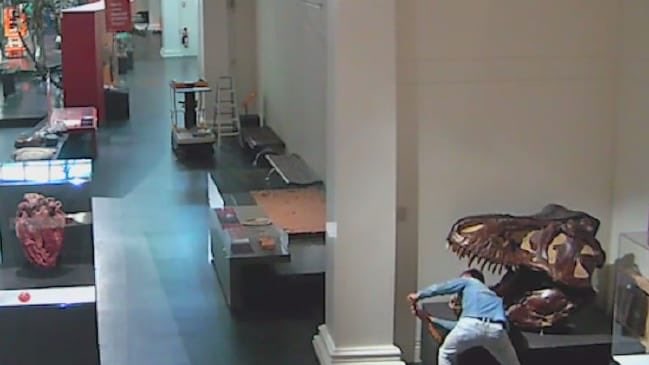 Source: Artnet News
At 1am on May 10, German student Paul Kuhn broke into the Australian Natural History Museum in Sydney after climbing nearby scaffolding. He spent 40 minutes inside the museum, taking selfies with dinosaurs. In one of the photos he put his head in a T. rex's mouth, Artnet News reports.
Kuhn left the museum with an unidentified artwork and an employee's cowboy hat, which he found inside and kept wearing during his visit. The whole thing was captured by CCTV cameras.
New South Wales police found Kuhn on Sunday, May 17, and charged him with breaking in and two thefts. The trial is scheduled for June 1.
After the incident went public, many compared it to the 2006 film Night at the Museum, starring Ben Stiller. To warn Kuhn's potential copycats, deputy chief inspector Sean Heaney told the Guardian: "It's not going to be a movie producer knocking on your door. It's going to be [New South Wales] police knocking on your door."
Founded in 1827, the Australian Museum is the oldest museum on the continent and one of the oldest natural history museums in the world.
The museum has been closed for renovation since August 2019. It was due to reopen this spring, but the reopening date has not been announced yet.
Subscribe to our mailing list: