MoMA director Glenn Lowry tops this year's list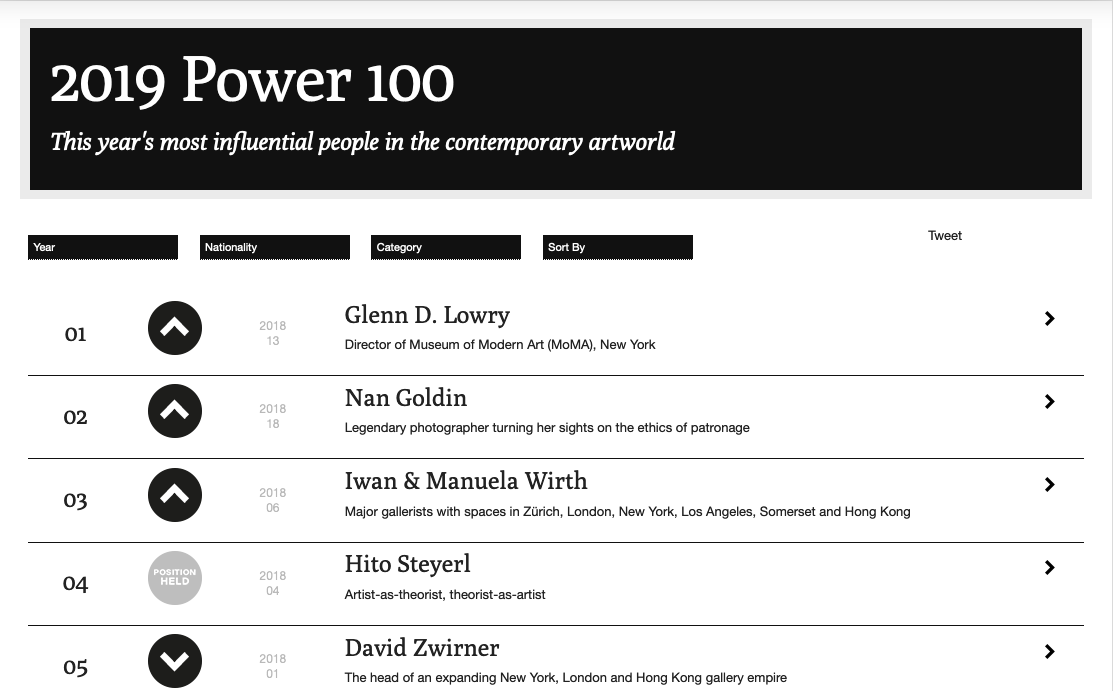 A screenshot of ArtReview website
Glenn Lowry, the director of Museum of Modern Art (New York), is named first in the 2019 list. He is followed by photographer and activist Nan Goldin. Gallerists Iwan and Manuela Wirth are ranked third followed by artist Hito Steyerl and gallerist David Zimmer, Artguide learnt from ArtReview.
Glenn Lowry topped the list for MoMA's extension and rethinking of MoMA's museum model. The new extended museum shifts away from the traditional linear representation of art history. MoMA is now the museum leader in the contemporary art world, offering a better representation of the diversity of artists working now and across the decades.
The name of Nan Goldin is associated with the campaign against the Sacklers, which she has been leading for the past few years, accusing the Sackler family of fuelling the opioid crisis in the US. The campaign made the National Portrait Gallery and Tate stop accepting donations from the Sackler family. Goldin has drawn attention to the ethics of patronage and showed that art and artists can lead to changes in real life.
Felwine Sarr and Bénédicte Savoy, ranked sixth in the list, are authors of a report on colonial art commissioned by the French president. The report played a key role in the discussion on the restitution of art acquired by Western institutions in dubious circumstances.
Amid the system crisis when the nature of power is changing and prone to destruction, it is clear that institution begin again to respond to alternative models of art world structuring. The full Power 100 list is avilable on the ArtReview website.
Subscribe to our mailing list: