It is seven times higher the artist's previous auction record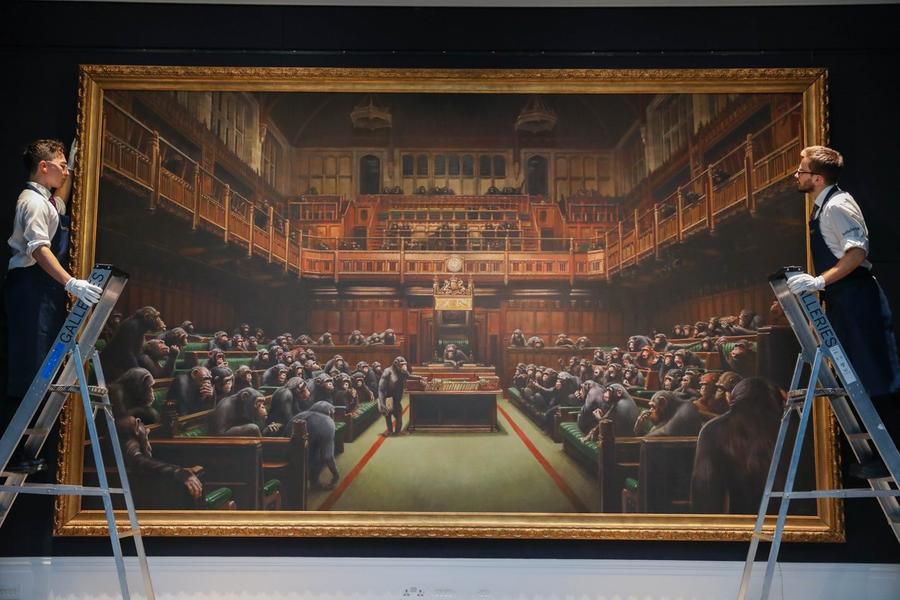 Banksy, Devolved Parliament, 2009. Oil on canvas. Source: Sotheby's/Artguide
Banksy's satire of the British parliament, a monumental painting Devolved Parliament (2009) estimated between £1.5m and £2m, was sold for £9.9m ($12m). The auction took place at Sotheby's in London on October 3, 2019, Artguide learnt from Sotheby's.
The sale is a new auction record for Banksy. The previous one was set at Sotheby's in New York in 2008, when his piece Keep It Spotless, a Hirst spot painting on to which Banksy stencilled a maid cleaning, was sold for £1.4m.
Devolved Parliament depicts a sitting of the House of Commons with politicians replaced by chimpanzees and orangutans.
The painting was sold to n anonymous collector on the phone after 12 minutes of bidding. Find more information on Sotheby's website.
Subscribe to our mailing list: