Museum employees demand higher wages amid pubic debate on chronically low salaries for rank and file arts workers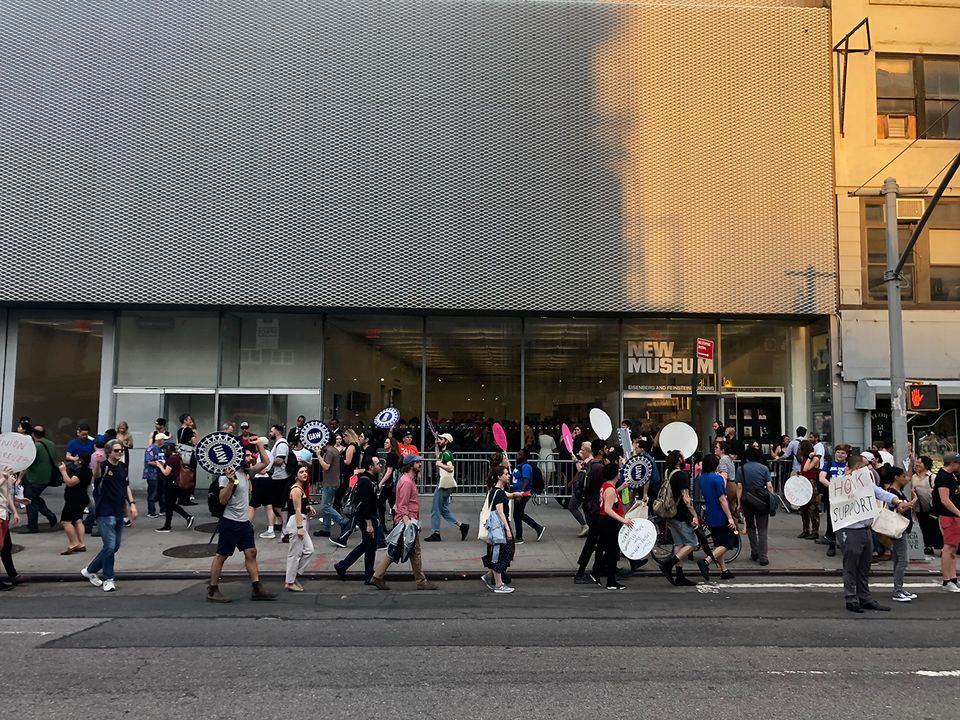 The New Museum's workers protest in June to call attention to union negotiations with the museum. Source: The New Museum Union/The Art Newspaper
Members of the union that has represented employees of New York's New Museum since January have voted to strike if an agreement is not reached with the institution on a new contract, according to the Art Newspaper. Sixty nine union members voted in favour and 3 opposed the strike.
The New Museum Union (NewMuU) has been negotiating for months, trying to reach an agreement on wages and health benefits. The union represents 87 workers.
Dana Kopel, a senior editor and publications coordinator at the New Museum, said the negotiations with the museum were hostile from the start. "The museum has been really resistant," she said.
Before the union was established, the museum hired a consulting firm to defend its employment conditions.
The museum comments on the situation: "As has been previously reported, we have been bargaining for six months, since March 28. We did not receive the union's economic proposals until the end of May. The union was unavailable for most of June. We responded with our economic counterproposal at a meeting in early July. Since that time we've had productive sessions and have made considerable progress: we've accepted many of the union's proposals, and they've accepted many of ours. At no point were talks stalled. We requested additional bargaining dates in September so we could make greater progress. We are hopeful that we can bridge any remaining gaps and reach an agreement soon that benefits our staff."
The union seeks to raise a minimum wage for full-time workers from $40,000 to $51,000.
Union members say their wages are unseemly compared to "disproportionately high" executive salaries and the museum's current $89 million capital campaign to finance an expansion designed by Rem Koolhaas.
Subscribe to our mailing list: