After that wheelchair users had a race along Independence Avenue.
Students of Belarus Free Theatre's Fortinbras theatre laboratory put on masks of blind people on December 25.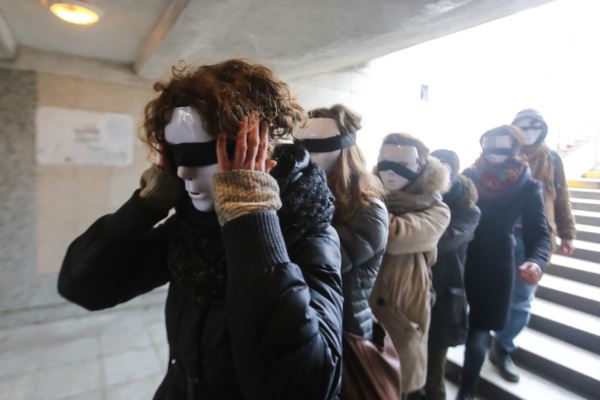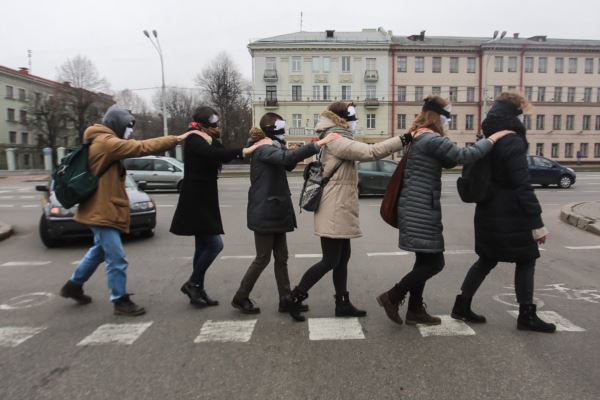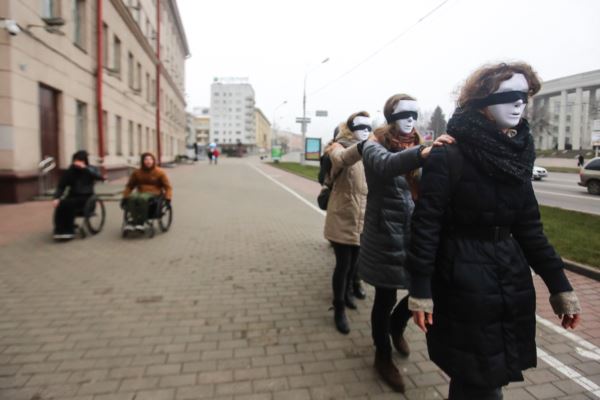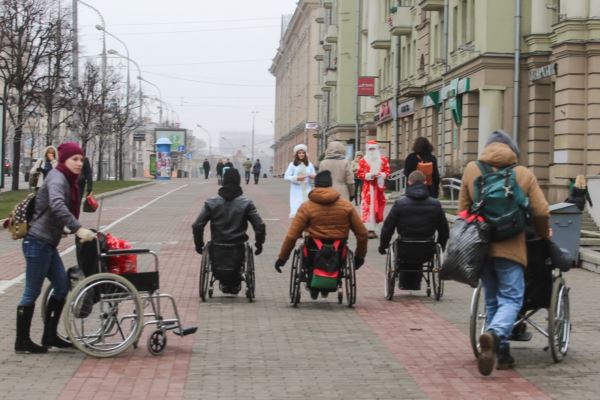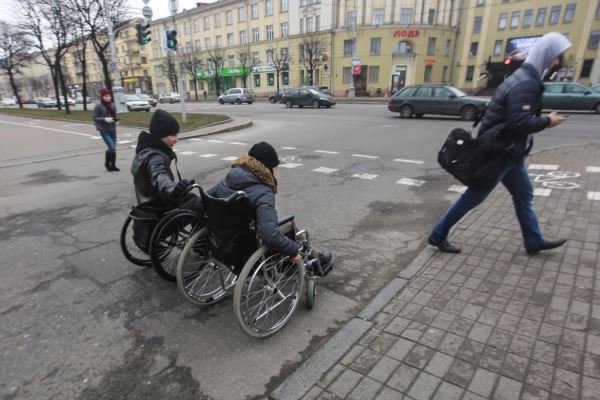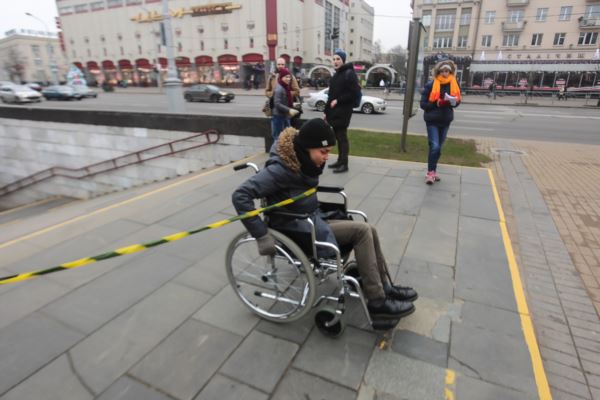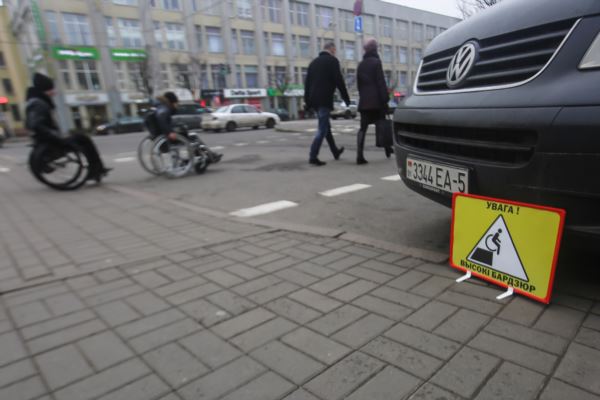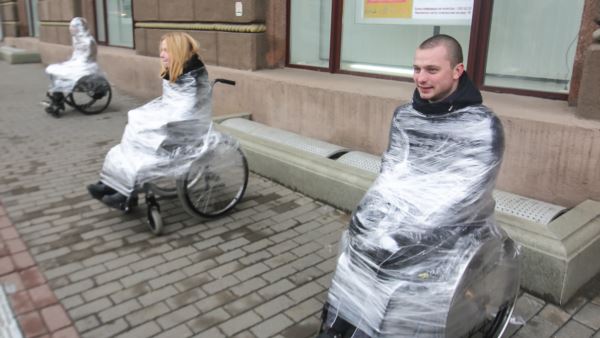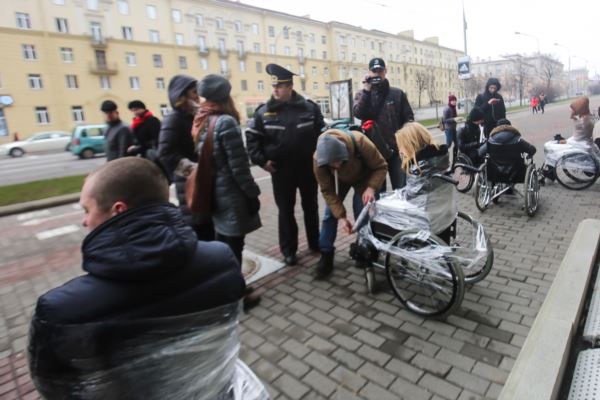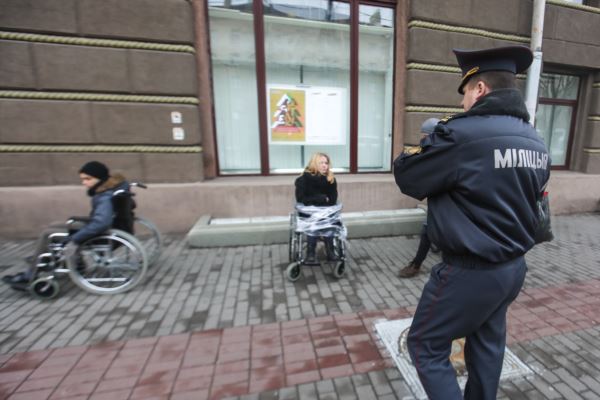 They formed the word "See" in braille, using plastic blocks, near October cinema (braille is a tactile writing system for blind people). They then put on masks and blindfolds to be guided through the city by a "sighted" person.
Ordinary for sighted people actions – using a pedestrian subway and crossing the street with "silent" traffic lights – were the biggest problem. People showed different reactions to the performance: some called the activists "devils", some passed by indifferently, some asked blindfolded activists about the column and its route.
Менчукі прымералі маскі сьляпых. Нехта так жыве штодзень, актывісты кажуць, дзяржаве ўсё роўна https://t.co/AyR2XI8S7s

— Радыё Свабода (@svaboda) December 25, 2015
As organisers of the project say, 5% of Belarusians are disabled people, but they need the same things that the rest 95% need. Stanislava Shablinskaya, one of the organisers, told RFE/RL's Belarus Service, how she felt being among 5% of people with disabilities:
"The performance was dedicated to visually impaired people. To our regret, there are many such people in the country, but no one sees them in our city, no one knows they exist. We can say they live in a ghetto. They live where they know their routes, know how to get to a shop or work. We don't see them, because the city is not adapted for them.
We have special traffic lights with audible signals, but only a few. Pedestrian crossings are not equipped with tactile paving that allows a visually impaired person to understand where to move, where the crossing begins and ends. One more problem is that wrong names of bus stops are announced in public transport or not announced at all, so, blind people don't know where to get off. We speak about accessibility, but we have many sidewalks where blind people can't walk normally.
In our performance we formed the word "See" in braille. It is a call on our society and government to see and turn their attention to these problems. We ourselves became blind, closing our eyes to such problems.
When we put on blindfolds, we felt that it was hardly possible to get around the city without someone who guides you. It was my first experience of walking blindfold. Yes, the route was rather simple and straight, we didn't have many obstacles, but an ordinary pedestrian subway appeared to be a barrier: ramps, railings, many people behind you… Traffic lights – we had the person who said when the light turned green. But without him we wouldn't have known when to cross the street. I heard people nearby, but I heard so many sounds don't help you and only distract your attention. I didn't hear the sound that would have helped me, the special audible signal of the traffic lights."
Activists attended the next performance: wheelchair users organised an obstacle race to overcome their usual barriers – pedestrian crossings and curbs that are not adapted for wheelchairs. The racers were wrapped in plastic at the finish line. Aliaksei Saprykin, a participant of the performance, told RFE/RL it symbolised that disabled people in Belarus have their hands and feet tied:
"Wheelchair users raced from the Academy of Science to Yakub Kolas Square, having to overcome obstacles. We installed special road signs for them. We installed the sign 'Pedestrian subway', depicting a wheelchair with a prohibition symbol and reading 'not available for wheelchair users', near the subway that wasn't adapted for disabled people. A high curb – the sign 'Attention! High curb!', depicting a wheelchair user falling down from the curb. The pedestrian subway near Lido restaurant – the sign 'By-pass route', because wheelchair users cannot use it. Activists had to carry one of the disabled people in arms, because it was the only way to get there.
People stopped and asked what it meant, and we gave them leaflets with information about the state of disabled people in Belarus. So, people had an opportunity to learn about the problem and understand that we live in a non-democratic society.
We were under surveillance since the beginning of the performance: we were followed by three police cars, three policemen in uniform were watching us and a plainclothes police officer was taking a video. When we began to wrap the wheelchair users in plastic, they talked to us and asked to stop, but we didn't stop. They continued watching us, but we went away. We will continue our actions. They haven't charged with an offence yet."
Two days ago, wheelchair users and Fortinbras students blocked a central street in Minsk and later changed places with mannequins in a store.
Subscribe to our mailing list: