E-Werk Luckenwalde owners say the centre will be powered with locally sourced biomass, with excess energy sold to fund the institution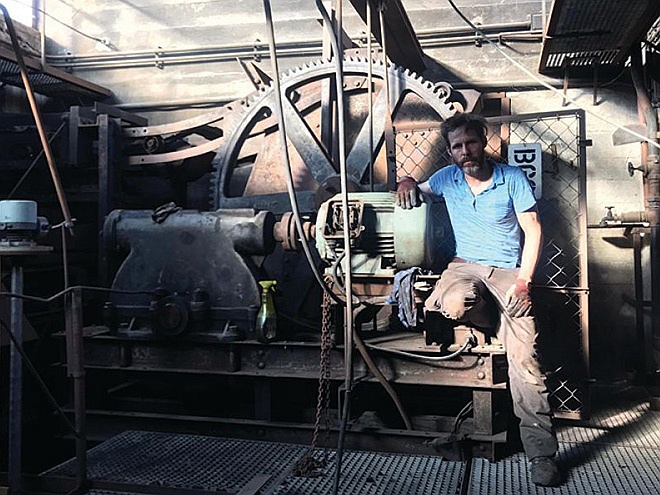 Pablo Wendel at E-Werk Luckenwalde. Source: E-WERK Luckenwalde/The Art Newspaper
E-Werk Luckenwalde (Luckenwalde power station), a new contemporary art centre by artist Pablo Wendel and curator Helen Turner, will open in the former coal power station 65 kilometres south of Berlin on September 14. The centre will house exhibition spaces and studios and produce carbon-neutral energy, the Art Newspaper reports.
According to Turner, E-Werk Luckenwalde's programme, which will be opened with an evening of performances by the London-based festival Block Universe, will be international, based on the idea of "energy as a metaphor for art". The centre's first projects include a mixed-media commissioned work by the British artist Lucy Joyce in collaboration with local residents, an exhibition of radiator sculptures by the French artist Nicolas Deshayes and a pavilion for events – a geodesic dome designed by the Stuttgart-based group Umschichten.
E-Werk Luckenwalde for Wendel is a "total work of art". Many of the plant's original engine room components were preserved and upgraded using modern technologies to "stage" biomass energy production as a "performance in itself".
The arts centre will have support from the leading biomass provider Spanner Re2. Wendel expects E-Werk Luckenwalde, running at a quarter of capacity, to produce energy for over 200 households.
A number of small art institutions and 20 households have signed up for "art energy".
E-Werk Luckenwalde received about 300,000 euros of state funds for its programme and the station overhaul. The institution will also used green energy for its own needs. "We don't really want to rely on funding or commercial activities," Turner says.
Subscribe to our mailing list: