The initial plan was to install the sculpture outside the Palais de Tokyo, but the location was later moved to a place near the Champs-Elysées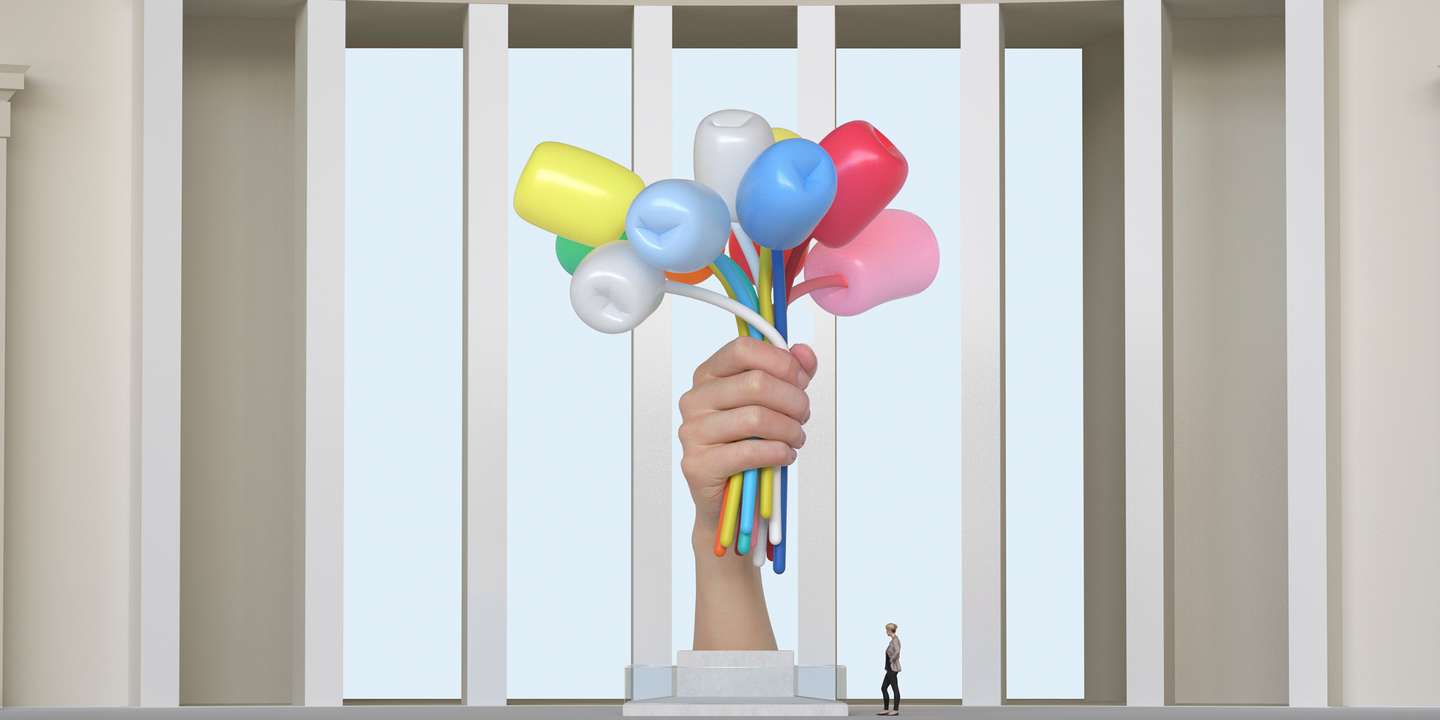 Jeff Koons . Bouquet of Tulips. Rendering. Source: Jeff Koons/Noirmontartproduction/The Art Newspaper
Jeff Koons's sculpture Bouquet of Tulips (2016-2019) is dedicated to the victims of the Novermber 2015 terrorist attacks in Paris. The sculpture will be unveiled during Nuit Blanche, an annual night-long art festival on 5 October, according to the Art Newspaper.
Two of eleven tulips in the bouquet have arrived in Paris from Arnold company near Frankfurt that produces works for artists. The tulips will be installed using an 80-tonne crane.
After three years of debate, it was decided to install Koons's sculpture in the municipal gardens behind the Petit Palais. Made of polychromed bronze, stainless steel, aluminium and stone, the bouquet is more than 12 metres high.
Jeff Koons wrote he created the sculpture as "a symbol of remembrance, optimism and healing" after the terrorist attacks in Paris November 2015 that killed 130 people. But his work caused controversy just after he announced his plans.
It was initially planned to install the sculpture between the Palais de Tokyo and the Musée d'Art Moderne, but the plans were cancelled following a public outcry. In particular, the newspaper Libération published a statement by 23 cultural figures, including France's former culture minister Frédéric Mitterrand. They wrote: "Due to its visual impact, gigantism and situation, this sculpture would upset the present harmony between the columns of the Musée d'Art Moderne and the Palais de Tokyo and the view of the Eiffel Tower."
Nyssen then suggested the Parc de la Villette by the French-Swiss architect Bernard Tschumi in north-eastern Paris as an alternative location. The option was opposed by Tschumi, and Koons said it was too far from the city centre.
Bouquet of Tulip costs 3.5 m euros. The funds were raised by Fonds pour Paris with the help of French and American sponsors.
Subscribe to our mailing list: