The row sparked after Statue of a Girl of Peace dedicated to Korean women who worked in Japanese brothels during the Second World War was shut down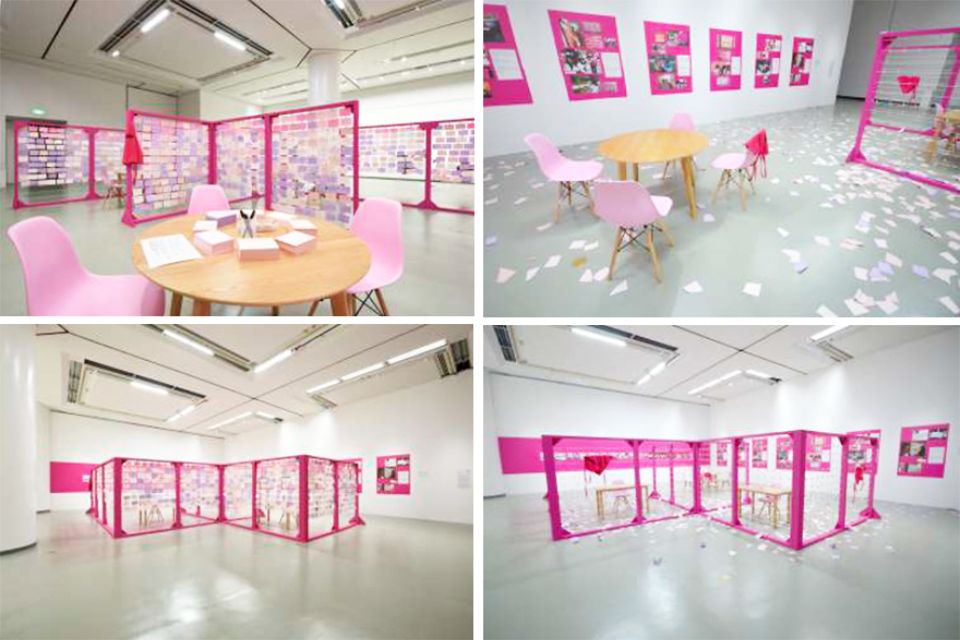 Left: Mónica Mayer's The Clothesline, 2019, before modifying, right: the modified installation. Source: Ito Tetsuo (left)/Akane Yorita (right)/The Art Newspaper
Eleven artists participating in the Aichi Triennale in central Japan, which runs until October 14, recalled their works from the exhibition or altered them protesting censorship after the exhibition section After "Freedom of Expression?" was closed, the Art Newspaper learnt from Art Asia Pacific.
The After "Freedom of Expression?" section was shut down following threats over Statue of a Girl of Peace (2011) by Korean sculptors Kim Seo-kyung and Kim Eun-sung. The sculpture shows an ianfu (comfort woman). Comfort women were forced to work in Japanese brothels during World War II.
The exhibition,which included artworks that had been censored in international museums, was closed down three days after the opening. Takashi Kawamura, the mayor of Nagoya (Aichi's prefectural capital), fuelled the row, saying that "[the comfort women statue] tramples on Japanese people's feelings". He wrote to the governor of the Aichi prefecture and the head of the triennial organising committee, Hideaki Omura, asking to remove the sculpture.
Organisers insist that the section was closed for safety reasons. "The Aichi Triennale organising committee's decision to close After 'Freedom of Expression?' was a measure to ensure a safe and secure setting for visitors to enjoy the Triennale. It was not an act of censorship," they said in a statement.
Eleven artists requested "the suspension of their exhibition". Exhibition rooms featuring works by Cuban artist Tania Bruguera and Javier Téllez of Venezuela were closed.
Other artists modified their works. For example, Mexican artist Mónica Mayer stopped accepting answers from visitors for her project The Clothesline and left blank papers used for answers on the floor. She also changed the title of the project to The Silent Clothesline. The interactive exhibition launched in 1978 invited people to share anonymously their experience of sexual assault and harassment.
According to Art Asia Pacific, Hideaki Omura set up the Aichi Triennale Inspection Committee, which "proposed a plan for what to do with the exhibition and in similar scenarios in the future".
Subscribe to our mailing list: