Nicholas Cullinan, the National Portrait Gallery's director, says the institution has to rely on "a wide range of corporate partners"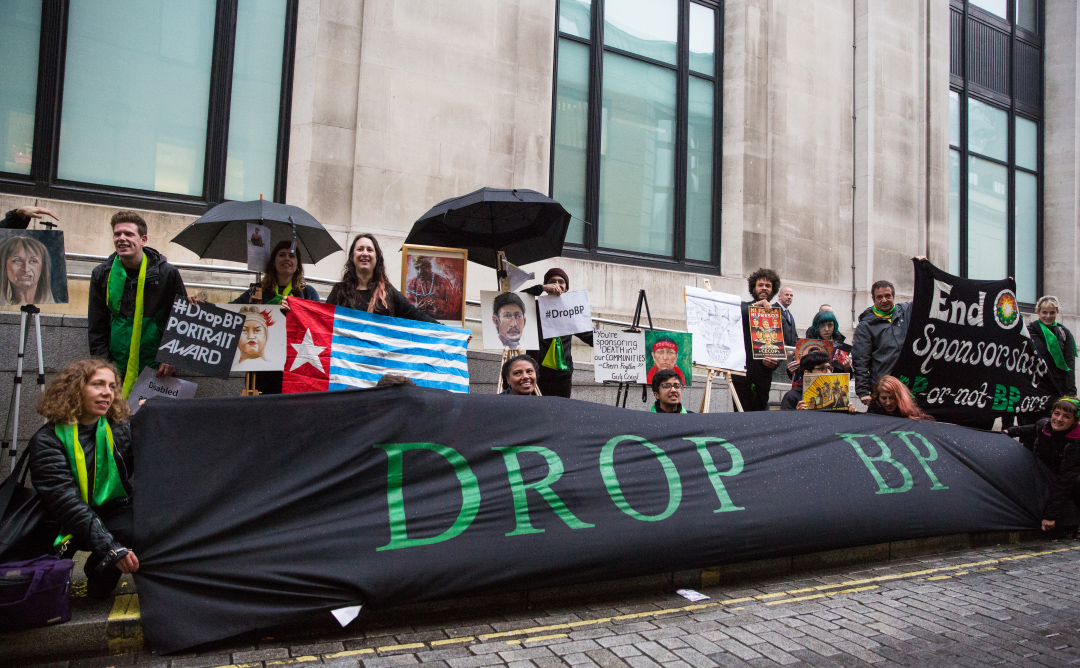 Protests against BP outside the National Portrait Gallery in London. Source: Mark Kerrison/BP or not BP/Hyperallergic
78 artists, including five Turner Prize winners, have signed an open letter to the National Portrait Gallery in London, urging the institution to end its sponsorship deal with BP, Artguide reports.
The letter was written by Gary Hume and signed by Turner Prize winners Antony Gormley, Anish Kapoor, Sarah Lucas and  Rachel Whiteread among others.
The letter highlights BP's role in furthering the climate crisis as one of the world's largest producer of fossil fuel. The authors of the letter ask the museum not to renew partnership with the company after the current agreement expires in 2022.
"A crucial role of art is to describe to future generations what it is to be alive now, and to provide an echo of our humanity to those who seek it in the future. The ethical red lines regarding art sponsorship are always shifting, tracing the curve of corporate behavior and what's regarded as the public good. We believe that, today, the loss of BP as a source of funding is a cost worth bearing, until the company changes course and enables future generations to make art in a world that resembles our own."
Nicholas Cullinan, the National Portrait Gallery's director, said in respond that government funding covered only one third of the gallery's needs, so the museum had to work with "a wide range of corporate partners". The gallery's challenge was to "find positive solutions appropriate to the changing times in which we live."
Subscribe to our mailing list: