The National Trust for Scotland is responsible for the conservation of the historic Hill House. The structure is a temporary decision unless the preservation work is completed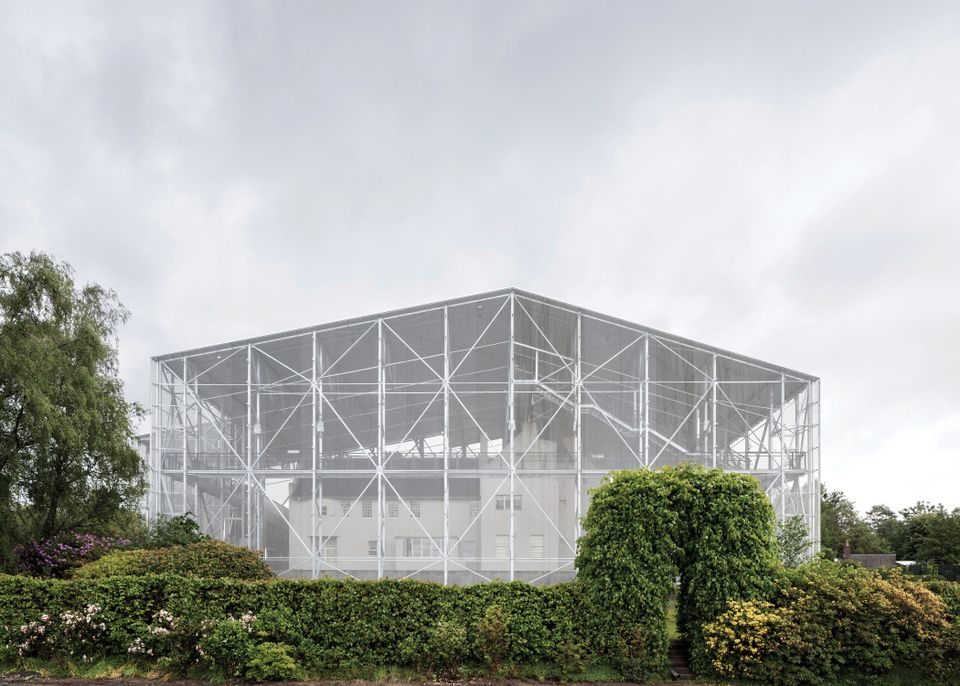 Designed by Charles Rennie Mackintosh, the building has been absorbing moisture and rain since it was constructed in 1904, putting its unique interiors at risk. Source: Johan Dehlin/The Art Newspaper
The giant airy pavilion covering Charles Rennie Mackintosh-designed Hill House in Helensburgh, Scotland, has become a tourist attraction, as well as the 1904 mansion. The shelter was designed by London-based architecture studio Carmody Groarke. The structure made of galvanised perforated steel weights 197 tonnes. It is supposed to protect the old building from rain and dry it out, according to the Art Newspaper.
The architects made walkways inside the pavilion, allowing the public to explore the exterior at different heights.
The National Trust for Scotland expects it will take three years to dry the building and wants to prepare a plan to protect its sandstone-block masonry. The outer layer of Portland cement has been allowing moisture to penetrate the sandstone but prevented it from evaporating.
Bryan Dickson, the trust's head of buildings conservation, says there's no better option than sacrificing the historic layer of cement to preserve the whole house.
The Hill House rescuing project cost £4.5 million, of which £3 million is given by the fund, while the remaining sum will be fundraised. Getty Foundation has donated a grant of £95,000 to save the building.
Subscribe to our mailing list: