Employees at MoMA, the Metropolitan Museum of Art, the Solomon R. Guggenheim Museum and others shared information about their salaries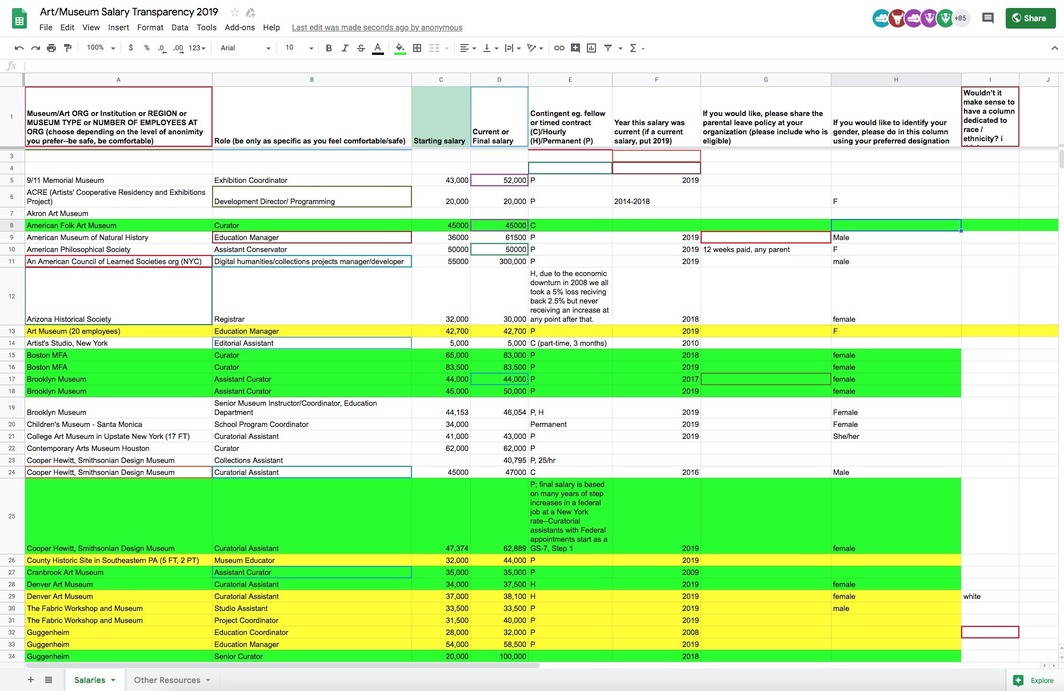 Screenshot of the "Art/Museum Salary Transparency 2019" spreadsheet. Source: Artforum
Workers of art institutions created a public spreadsheet to share information about their salaries and employment terms, according to Artforum.
The document titled "Art/Museum Salary Transparency 2019" was created by Michelle Millar Fisher, an assistant curator of European decorative arts and design at the Philadelphia Museum of Art (PMA). She earlier worked at MoMA.
After creating the spreadsheet, Fisher posted on Instagram: "A few years ago, thinking about transparency and the multi-vectored gaps in pay, I started sharing my salaries for each job I've had, from nannying to curating, every time I give a career talk. . . . Please contribute if you can."
Most positions in the spreadsheet are curatorial and educations, but Michelle Millar hopes other workers, for example, security staff, will also join the discussion: "If you don't do it, everything stays the same. Sometimes it takes just one tiny action. Solidarity is the only way to affect great change."
The spreadsheet is available here.
Subscribe to our mailing list: