The 8-metre-high statue resembling a female body unveiled in Piazza del Duomo has sparked debate on violence against women by men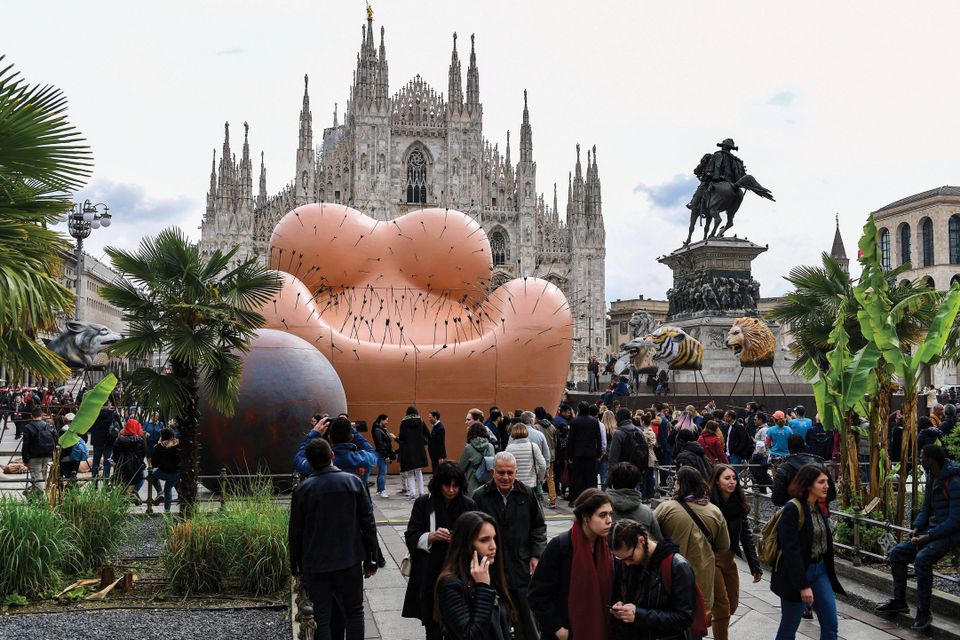 Gaetano Pesce's Maestà Sofferente in the Piazza del Duomo in Milan Photo: MIGUEL MEDINA/AFP/Getty Images/The Art Newspaper
The monumental street sculpture conceived by Gaetano Pesce as a critique of the patriarchy caused protests by Italian feminists. They say the artwork celebrates violence against women, the Art Newspaper reports.
Created for Milan Design Week, the sculpture resembles a 8-metre-high woman's torso covered with arrows, chained to a ball and under attack from wild animals. The sculpture was officially unveiled on April 7 to mark the 50th anniversary of the chair Up designed by Pesce in 1969 as an "image of a prisoner". This time the artist portrayed a woman's body suffering "because of the prejudice of men".
After the unveiling ceremony, the feminist group Non Una Di Meno staged a protest in front of the sculpture. Activists brought placards reading "This is not a woman", texts by the American art activist group Guerrilla Girls and statistics showing that one woman is murdered in Italy every three days.
The activists wrote on Facebook: "A woman is for the umpteenth time represented as an inert body and victim, without ever calling into question the actor of the violence."
Cristina Tajani, a fashion and design expert who invited Pesce to participate, welcomed the discussion: "It is positive that women are speaking out on the representation of their own bodies. The creative space of Design Week is, and must be, a space for discussion on the meaning of a work of art, not only an aperitivo party."
Subscribe to our mailing list: