Over 720 cultural figures have signed a petition to express solidarity with victims of sexual abuse. They encourage their South Asian colleagues to struggle for safe work environment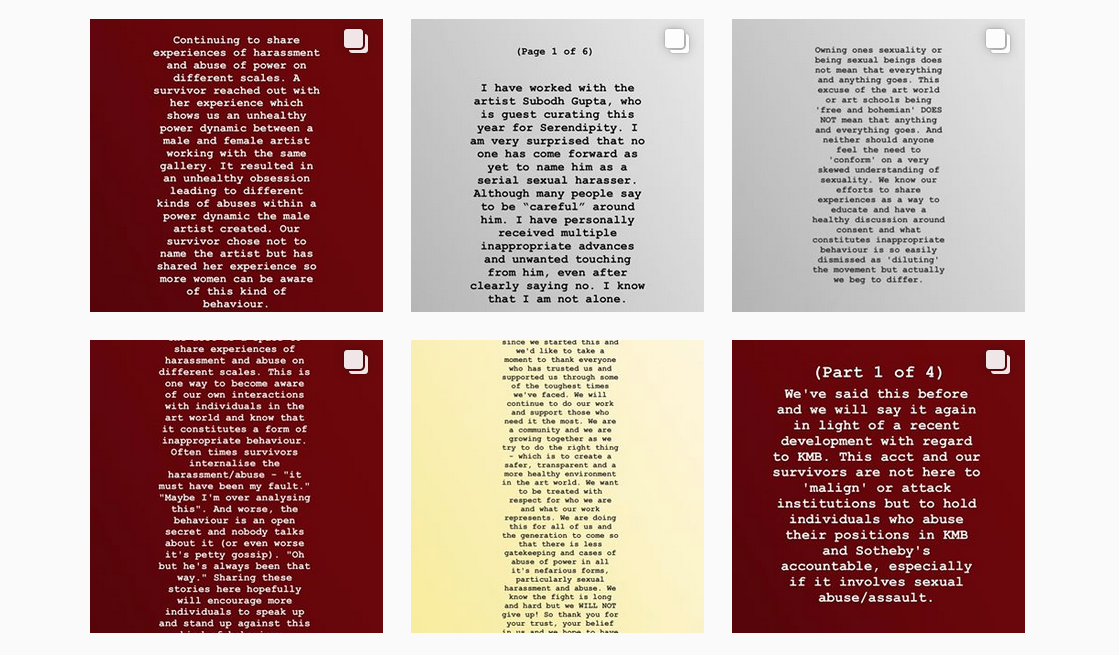 A screenshot from the Instagram channel Scene and Herd
The petition was signed by artists, curators, gallery owners and collectors, who call to use legal and informal support mechanisms to address any form of harassment, Artforum reports.
"As active stakeholders in the South Asian arts community, we are concerned by the growing number of allegations of sexual harassment and reports of hostile work environments. . . . Survivors who publicly tell their stories face serious forms of retaliation. They are reluctant to disclose their identities because they fear losing work. As a community, we commit to ensuring that people who are speaking out are protected, and that professional opportunities are not denied to them." The letter also denounces "the use of defamation as a method to intimidate and silence survivors".
The list of those who signed the letter includes Shahidul Alam, Tania Bruguera, Urvashi Butalia, Diana Campbell Betancourt, Cosmin Costinas, Charles Esche, Natasha Ginwala, the Guerrilla Girls, Amar Kanwar, Nalini Malani, Naeem Mohaiemen, Gabi Ngcobo, Philippe Pirotte, Nada Raza, Martha Rosler, Sudarshan Shetty, Dayanita Singh,and Adam Szymczyk.
The letter was written amid accusations of sexual harassment against artist Subodh Gupta, who recently left is post as guest curator at the Serendipity Arts Festival in Goa; Gaurav Bhatia, managing director of Sotheby's India; and Riyas Komu, cofounder and secretary of the Kochi-Muziris Biennale in India. Bhatia and Komu also lost their posts following the allegations.
The accusations were made on the anonymous Instagram account Scene and Herd (@herdsceneand) that offers victims of harassment an opportunity to tell their story on conditions of anonymity.
Subscribe to our mailing list: