New federal Decree 349 criminalises independent cultural activity in Cuba. Artists are protesting, the government is arresting the most active protesters. The confrontation goes on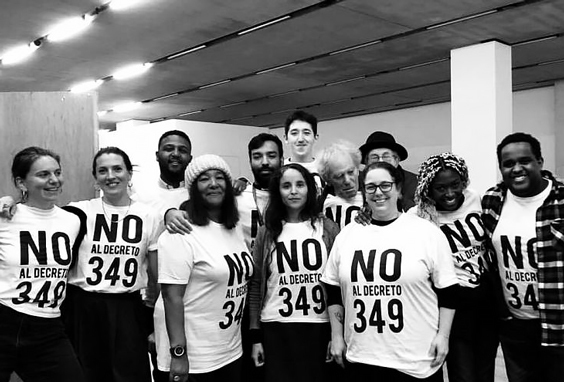 Cuban activists protesting against Decree 349. Source: Artforum
The government of Cuba tries to soothe artists by revising the most the most heavily criticised parts of Decree 349. The Ministry of Culture has remained silent since president Miguel Díaz-Canel signed the decree in April, according to Artforum.
Artists and cultural figures continue to protest, while the authorities arrest them. A public outcry is growing on social media.
The authorities promise to apply the law in exceptional cases, like stopping racism or sexism. Most artists, however, do not believe them.
Last week, the government detained several activists, including Tania Bruguera, Amaury Pacheco, Michel Matos and Bienal de La Habana organisers Luis Manuel Otero Alcántara and Yanelys Nuñez Leyva, who planned a sit-in at the ministry of culture in Havana. Police prevented the protest by detaining most activists preventively. Also, several musicians who openly criticised the decree were detained.
In response to the government's actions, artists and art institutions launched a petition, which was signed by 23 international art professionals and 139 supporters. Besides calls to repeal the law, the petition urges the government to stop oppressing Cuban citizens.
While cultural figures have to wait for the authorities to revise the law, others are prepared for further struggle. For example, Tania Bruguera, who was detained twice last week, pulled out of the Kochi Muziris Biennale to stand with Cuban colleagues.
International art organisations around the world have voiced their support for artists. They demand that the Cuban government give artistic freedom to Cuban citizens.
Subscribe to our mailing list: