Pyotr faces torture from French prison guards, the court releases him until January, Femen group stages a solidarity picket
Pyotr Pavlensky. Source: Oksana Shalygina/Facebook
Russian artist Pyotr Pavlensky was released from a French jail on September 13. He was detained after setting the doors of the Bank of France on fire. The artist's partner Oskana Shalygina wrote on Facebook:
Pavlensky will stand trial in January 2019. Until the trial, Pavlensky will have to report to police regularly.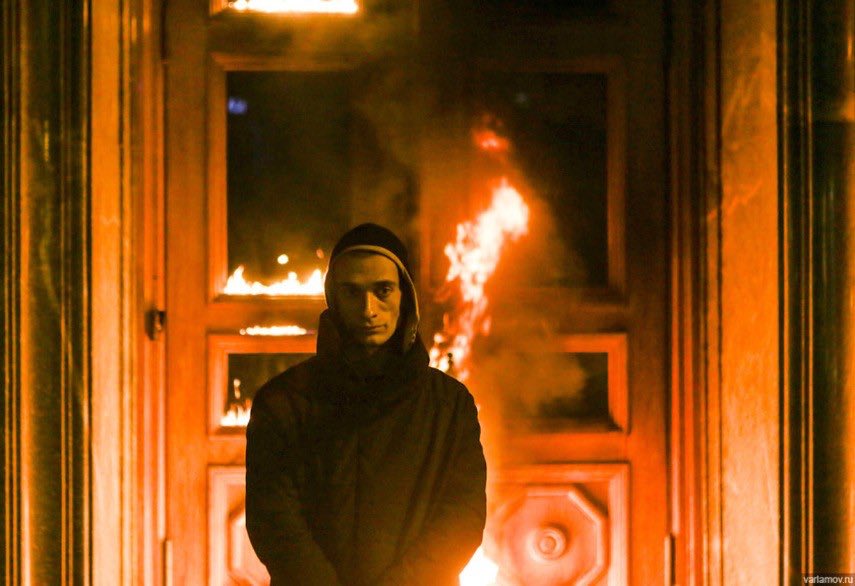 Pyotr Pavlensky in front of the Bank of France building after setting fire to the doors. Source: Lara/Twitter
The decision to release Pavlensky came as a surprise for Oksana Shalygina. The Art Newspaper reports with a link to the French radio RFI that the prosecutor asked to keep Pavlensky in prison for 10 years, because "he is extremely dangerous, might escape and in general do it all over again."
On September 7, Shalygina published Pavlensky's letter in a Facebook post. He wrote about degrading treatment by French prison guards:
Pyotr Pavlensky and Oksana Shalygina fled to France in January 2017 after they had been charged with sexual abuse in Russia. They claim the charge is politically motivated.
In France, Pyotr continued his activity as an artist. He set the doors of the Bank of France on fire, protesting against the police state and capitalist world. Pavlensky said about his performance: "The Bank of France has taken the Place de la Bastille, and bankers have taken the place of monarchs."
Femen activists supported Pavlensky, recreating his first performance outside the court building. They sewed their mouths shut, condemning the "disproportionate repression led by the French state towards Pyotr Pavlenski the willingness to muzzle his militant speech and to deny his freedom of expression."
La bouche cousue, en hommage à l'une de ses célèbres actions, les activistes ont dénoncé la répression disproportionnée menée par l'état Français envers Piotr Pavlenski ainsi que la volonté de museler son discours militant et de nier sa liberté d'expression. #FREEPIOTRPAVLENSKI pic.twitter.com/q4FWxRCk7v

— inna shevchenko (@femeninna) September 13, 2018
Subscribe to our mailing list: