The 7th International Socio-Political Poster Biennale started in Oświęcim, Poland, on September 7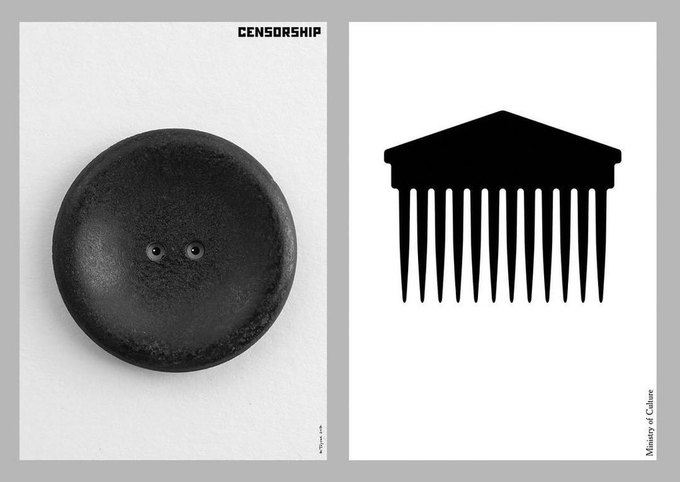 On the left, Yuri Toreev's poster. On the right, Vladimir Tselser's poster. Source: The Village Belarus
394 artists from 38 countries ranging from Afghanistan to the US and Zimbabwe submitted 758 posters. Only 73 pieces were selected for the contest, The Village Belarus reports.
The Biennale was focused on challenges facing civil society: tolerance, environmental concerns, equality of rights and the influence of the state on the life of its citizens, racism, violence, and the violation of the rights of children, women and minorities. According to organisers, the poster is "the most eloquent form of expression of the artist's commentary, whilst also reaching the broadest audience possible".
The jury awarded three winners and gave prizes to eight more artists in special categories.
The 1st Prize went to Belarusian artist Yuri Toreev for his poster Censorship. Another Belarusian artist and designer, Vladimir Tsesler, received the Rector of the Academy of Fine Arts in Kraków Prize for his poster titled Ministry of Culture.
Yuri Toreev, a lecturer at the Graphic Design Department at the Belarusian State Academy of Arts and a member of the Belarusian Union of Designers, told The Village Belarus in an interview:
"Art and the Ministry of Culture are different things. Vladimir, perhaps, raised a question if an artist needs the ministry. It's not for everyone to be identical, smooth, like brushed up. I think this is the message he wanted to send.
My poster depicting a button is called Censorship. I use a symbol of a button because it is used to fasten something, hide it or make it smooth. Two little buttonholes are little eyes. A small man sits behind the button. He is censored, he can only look through these little holes. It's closedness instead of openness.
Posters cannot be described. They speak for themselves. They are a visual utterance that differs from a verbal one."
Subscribe to our mailing list: