Hundreds of protesters clashed with police after a huge fire that destroyed the museum's exteriors, interiors and most of the 200-year-old collection of about 20 million artefacts.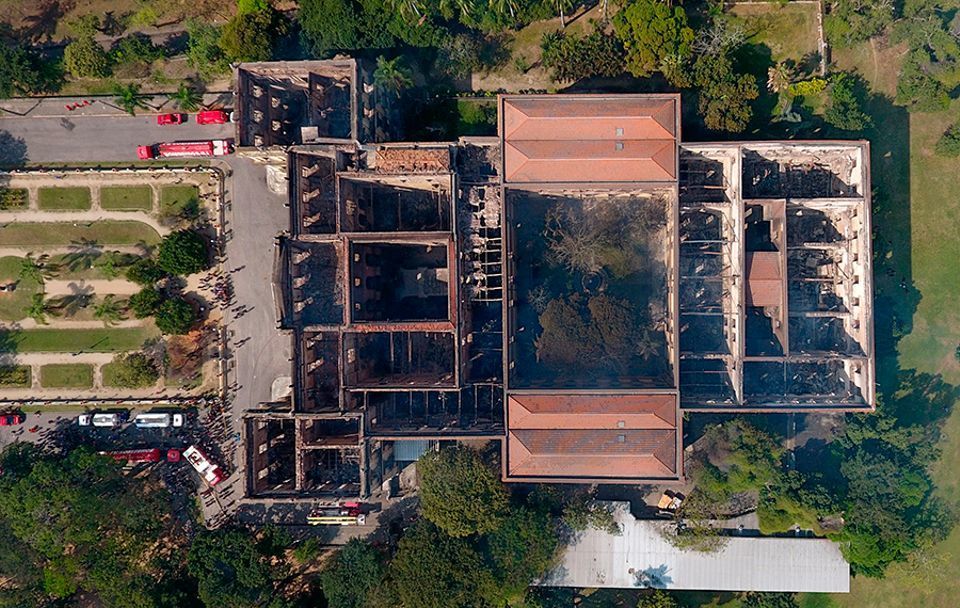 The National Museum in Rio de Janeiro destroyed by a fire. Only 10% of the collection survived.Photo: Fabio Motta/Estado Contuedo/Artforum.org
The fire started after the museum closed to visitors at 7:30pm on Sunday and quickly spread to the entire building. It took 80 firefighters more than 6 hours to extinguish the blaze. While causes of the fire are being investigated, crowds gathered outside the museum to protest against the years-long financial system that led to the destruction. The government cut spending on culture, including museums. As a result the museum's fire protection system included only fire extinguishers and smoke detectors.
According to The Art Newspaper, police used tear gas to prevent people from entering the museum to look at what remained of the museum. Many blame the country's previous and current presidents Dilma Rousseff and Michel Temer, accusing them of mismanagement of public funds.
The fire devastated research of many years, rare artefacts, among them a 12,000-year-old skull nicknamed Luzia, the oldest human remains discovered in the Americas. Also, the historical building, which was used by two emperors and kings, was destroyed.
"It's a moment of intense pain,"the museum's staff member paleoartist Maurilio Oliveira told the New York Times. "We can only hope to recover our history from the ashes. Now, we cry and get to work."
Subscribe to our mailing list: