London Mayor Sadiq Khan approved the protest after it gathered 10,000 signatures of support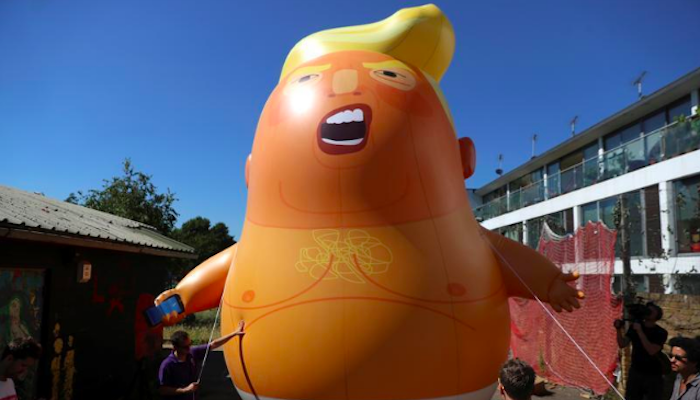 Trump Baby. Source: Twitter/Artnet.com
Activist Leo Murray has won permission of London's Mayor to fly a giant balloon depicting Donald Trump as a nappy-clad orange baby over Parliament.
Trump Baby will float at a height of 30 metres for two hours on the morning of July 13 during the US president's three-day visit to the UK. Also, the Stop Trump protest march will take place in central London at the same time, Artnet reports, citing CNN.
Murray wrote in London's Metro that initially, the Mayor's office was "not super pumped about our application to fly an unflattering effigy of the US president over Parliament". Officials said giant Trump Baby was "art" and added that "inflatables did not qualify as legitimate protest".
However, the activist found a way to convince the Mayor's Office: "But there was nothing in the rules about not flying inflatables, and all our paperwork was in order. We began to wonder if this might not be an important test of the health and vitality of our democracy. So we started a petition to the Mayor to let Trump Baby fly – and the great British public did not disappoint. In under three weeks the petition has been signed by over 10,000 people, while our crowdfunder to cover the costs of the protest smashed its initial target in 48 hours, with money pouring in from every corner of Britain and beyond. Trump Baby seems to have captured the mood of the moment."
Murray thinks that to get through to Trump, "you have to get down on his level and talk to him in a language he understands: personal insults".
I wrote a thing about the conception and birth of @TrumpBabyUK and why being rude to visiting fascists is not some sort of faux pas but a vital civic dutyhttps://t.co/bHYrJSW3k8

— Leo Murray (@crisortunity) July 5, 2018
"The Mayor supports the right to peaceful protest and understands that this can take many different forms," a representative for Khan said, adding that protest organisers need to get approvals from the Metropolitan Police and National Air Traffic Service.
Subscribe to our mailing list: