The new space will help National Gallery of Victoria to capitalise on blockbuster exhibitions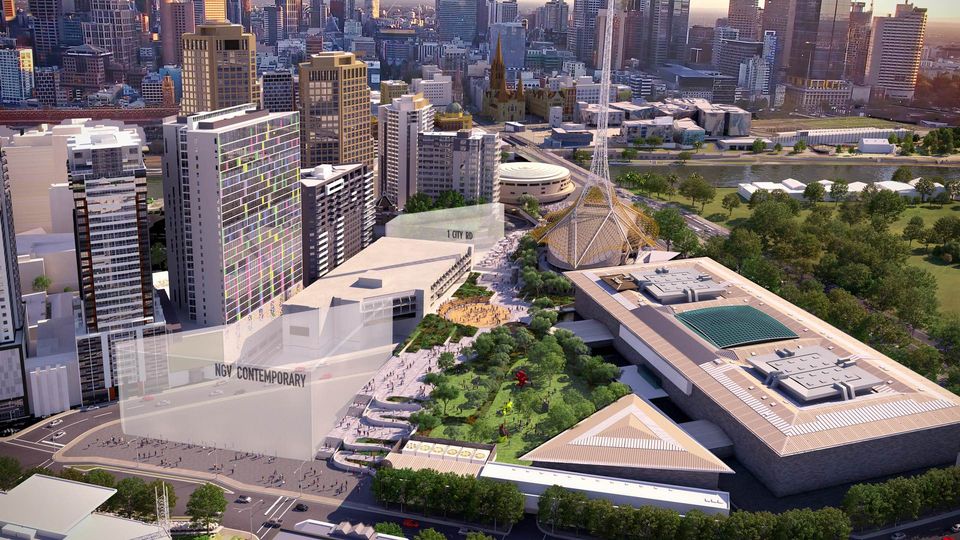 A rendering of the Melbourne Arts Precinct and NGV Contemporary. Source: Creative Victoria/The Art Newspaper
The government of Victoria has announced a partnership with the National Gallery of Victoria (NGV) to build Australia's largest contemporary art gallery called NGV Contemporary and revitalise the city's arts precinct.
The size of NGV Contemporary is not yet known, but it will replace a 6-storey, 61,000 square metre office building that once housed the headquarters of a brewing company. The new gallery will be located next to the NGV International buildings in St Kilda Rd, the Arts Newspaper writes.
The partnership and project plans were announced amid the highest ever public interest in contemporary art in Australia. The NGV Triennial featuring 100 artists and designers, among them Candice Breitz, Xu Zhen and Yayoi Kusama, was attended by more than 1.2 million people, the highest number in the NGV's 157-year history.
"NGV Contemporary will showcase the NGV's own outstanding collection of contemporary art and design and provide state-of-the-art flexible spaces for year-round major exhibitions," the museum's director Tony Ellwood told the Arts Newspaper.
The building will become the centre of Melbourne's arts precinct, an area with a high concentration of cultural and arts institutions, including the Victorian College of the Arts, the Australian Centre for Contemporary Art and the recently opened Buxton Contemporary.
The revitalised arts precinct is due to open in 2025. The state government will invest A$208m in the project over two years. Philanthropic donors are also expected to fund the project.
Subscribe to our mailing list: