Owners of Pit Gallery named an exhibition Vision Valley: The Glendale Biennial, but the show mainly featured white artists, which angered ethnic communities, especially Armenian diasporic communities.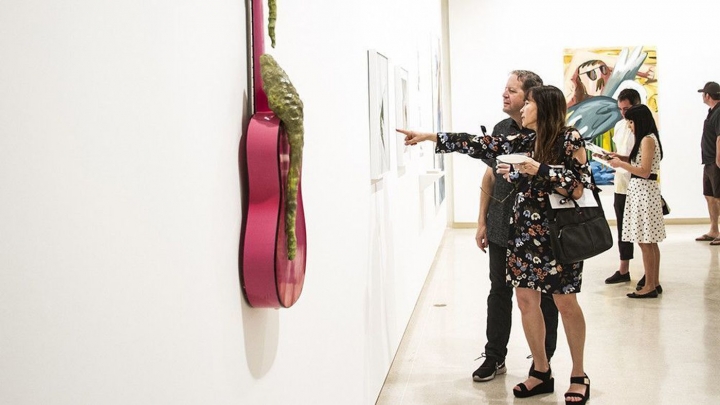 Visitors at Vision Valley. Source: The Brand Library and Art Center/Hyperallergic
Founders of the gallery Pit" in Glendale, California, met severe criticism of the exhibition they organised for the Brand Library Art Center. Until negative reviews appeared, the show had been titled Vision Valley: The Glendale Biennial. It was described as "a nod to Glendale's long-standing artist community" and a tribute to diverse artistic visions in the region, Artforum reports.
However, artists, filmmakers, writers and cultural workers criticised the exhibition and wrote an open letter, protesting against the lack of diversity, especially the failure to represent artists of Armenian descent, as more than 30% of Glendale's population are ethnic Armenians.
Authors of the letter accuse gallery owners Adam D. Miller and Devon Oder of "whitewalling" that expresses in excluding Glendale's Armenian, Filipinx, Korean and Latinx population from the list of artists in order to promote a majority-white roster.
"We are writing to remind you that your exhibition . . . is hosted at a publicly funded municipal venue in Glendale, the Brand Art Center. You describe the exhibition as 'a celebration of artists working in a specific community.' We are writing to remind you that the show is staged in a 40 percent Armenian neighborhood, the largest diasporic population of Armenians in the US. Among its roster of 32 predominately white artists, zero are Armenian. While your exhibition includes no Armenian artists, it does include all three directors of the Pit, as well as its gallery associate."
In response to the public outcry, Miller and Oder changed the title of the exhibition, which runs until June 22, and released a statement on their website, saying that The Glendale Biennial was not meant to give an accurate picture of the city's creative communities. They also noted they had not planned to organise a real biennial.
"We have divided and angered many people," the statement says. "We take the concerns expressed by our community seriously and we apologize to all those we have offended. The Pit has always tried to be inclusive and open, we see here where we have made a mistake. We will do better in the future."
Subscribe to our mailing list: