The non-partisan platform For Freedoms has partnered with over 200 institutions in 50 states. The project aims to make art visible part of the public discourse with the help of billboards.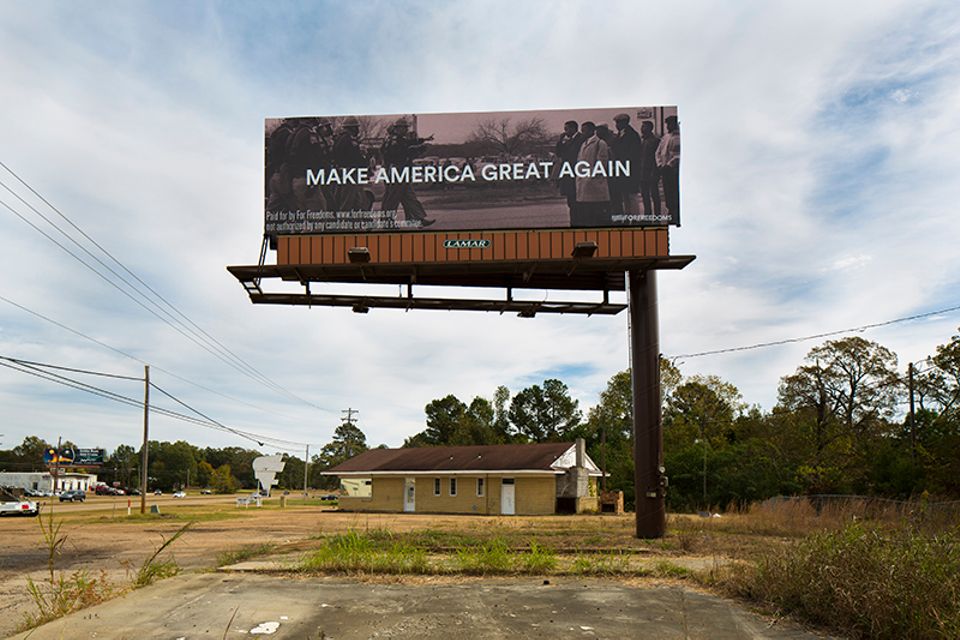 Spider Martin and Make America Great Again installed in Pearl, Mississippi. Source: Wyatt Gallery/The Art Newspaper
On June 4, 52 campaigns were launched to raise funds for the art project that will combine art and civic engagement across the US. If the fundraising campaign is successful, the non-partisan platform For Freedoms will bring artist-designed billboards and civic-minded programming to partner institutions across the country. Fifty two campaigns will be organised for each state, plus the District of Columbia and Puerto Rico, the Art Newspaper reports.
The project is run by artists Hank Willis Thomas and Eric Gottesman, who founded For Freedoms in 2016. The initiative 50 States will be held this autumn and coincide with the November mid-term elections. The organisers say it is probably the largest ever public art project in the US.
Billboards will be designed by Carrie Mae Weems, Trevor Paglen, Tania Bruguera, Marilyn Minter, Rashid Johnson and other artists. In September, billboards will be installed across the US. The project will involve from 300 to 500 artists.
"At the base of this [project] is a desire to increase the quality of civic conversations and inject art into public discourse," Gottesman says. "The scale of it matches what our intentions are." More than 200 museums, cultural organisations and education groups have already joined the project.
For Freedoms earlier installed billboards featuring political, non-partisan messages, for example, the billboard reading "Make America Great Again" – Trump's election slogan – over a photograph by Spider Martin taken on Bloody Sunday (March 7, 1965) during the march from Selma to Montgomery. The project provoked a broad public discussion and proved that advertising billboards can convey artistic messages.
Subscribe to our mailing list: