About 250 MoMA workers campaign for raising wages and benefits as the museum plans a $400m expansion.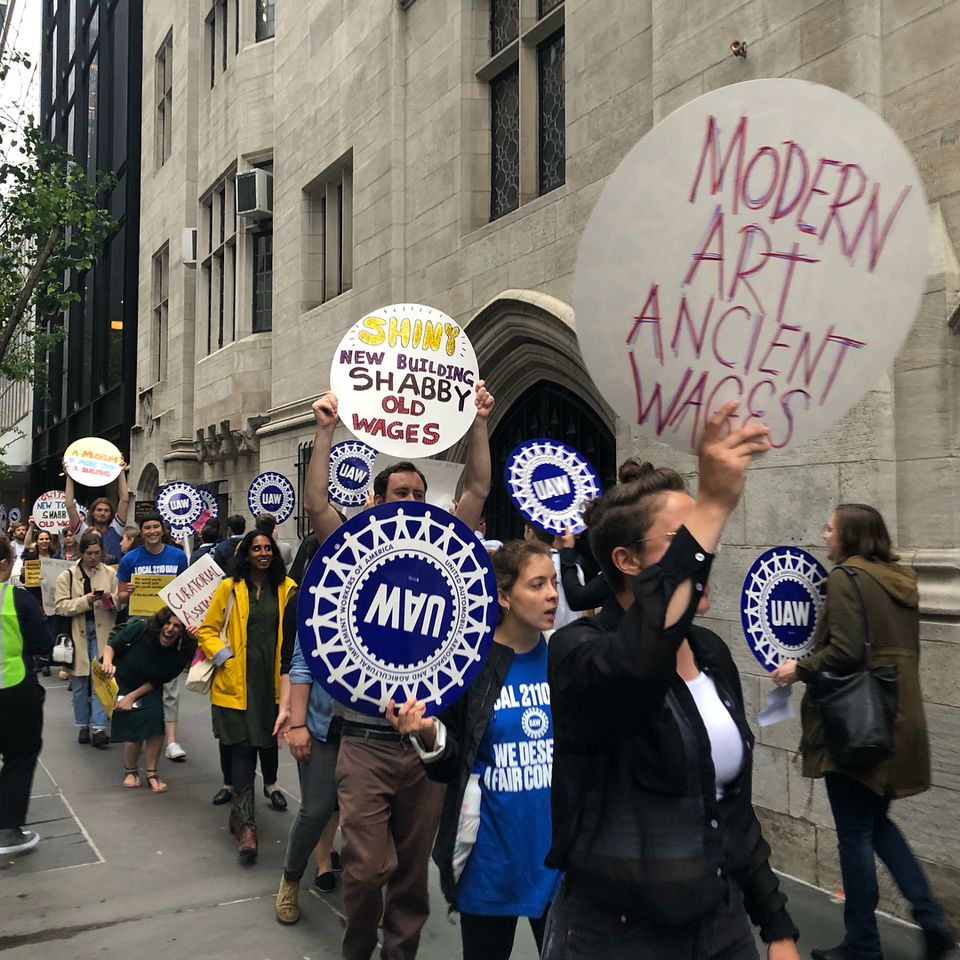 Protesters outside MoMA. Source: @momalocal2110/Instagram/The Art Newspaper
MoMA held its annual fundraising event Party in the Garden attended by donors and board members, including the president emerita and honouree Agnes Gund. Singer St Vincent performed at the event. Meanwhile, about 250 MoMA staff members staged a protest titled Party on the Pavement, demanding higher wages and benefits.
Some protesters wore blue t-shirts with the slogan "We Deserve Fair Contracts" to bring attention to "unfair" contracts. Others brought placards reading "Modern Art Ancient Wages" and "Glitzy New Tower Shabby Old Wages". The latter slogan was a reference to the museum's planned expansion worth $400m, the Art Newspaper writes.
The museum's employees working at curatorial and publications departments, the library and the store are members of the United Automobile, Aerospace, and Agricultural Implement Workers Local 2110 union. The union's president Maida Rosenstein says MoMA is trying to "lowball them economically", offering them low wages and little-to-no overtime pay, as well as threatening to cut health care.
At the same time, the museum raises about $400m to expand its exhibition space by 4,645 square metres in 2019. The project made many workers work overtime, but less than 50% were paid for extra hours. Rosenstein said: "At this stage of the negotiations, we're still far apart on these basic economic issues, particularly given what people are facing in this coming year with the reopening of the museum."
Rosenstein also said the aim of the protesters was to raise awareness of Party in the Garden guests and the larger audience about the museum's treatment of its workers.
The museum's spokeswoman said: "MoMA's extraordinary staff are the best in the world. We are committed to working with the Local 2110 to reach an agreement that will keep our community of dedicated staff and the Museum on a path of financial stability and future growth. We respect the right of each individual to contribute to the open dialogue and make her or his voice heard in this process."
Subscribe to our mailing list: