A shiny dark-blue glass ball juxtaposed with a replica of a 16-th century altarpiece painting by Italian artist Pietro Perugino was broken on the final day of the exhibition.

Source: Frankfurter Allgemeine
The exhibition 2018 Masterpiece from the series Gazing Balls was held in the 15th century Nieuwe Kerk in Amsterdam since February to April 8, Frankfurter Allgemeine reports.
On Sunday, a visitor couldn't help touching the artwork, making the ball shatter into pieces. The replica of the painting Madonna and Child with Four Saints behind the glass ball wasn't damaged.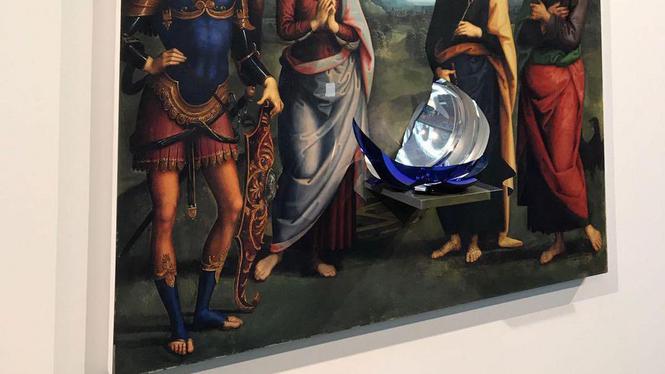 Source: @Zweder_Masters/Twitter
The artist's representatives now estimate the damage for the insurance. The Dutch website nrd.nl notes that the fragile artwork was displayed without tape.
Jeff Koons has created many works where glass balls reflecting viewers and everything around them are added to old masterpieces.
Jeff Koons, 63, is considered to be one of the most expensive living artists. In 2013, his sculpture Balloon Dog was sold at Christie's for $58,000 million.
Subscribe to our mailing list: