The prominent photographer says the race for profits has led to the opioid crisis and multiple deaths. She has gone through it herself.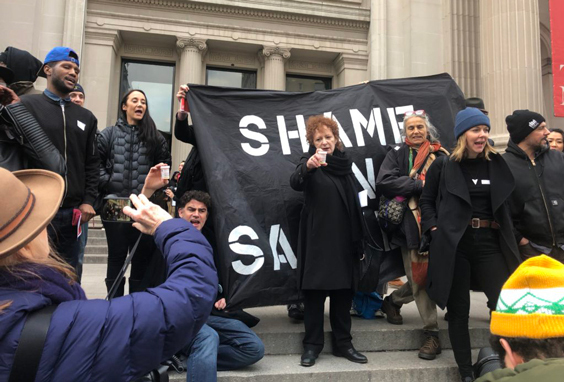 Nan Goldin protesting against Purdue Pharma. Source: Andrew Russeth/Artnews/Artforum
Dozens of activists led by Nan Goldin gathered for a protest outside New York's Metropolitan Museum. They protested against the Sackler family and their pharmaceutical business Purdue Pharma. Activists' banners read "Shame on Sackler" and "Fund Rehab". "Sacklers knew their pills would kill," "115 people dead today", protesters said, according to Artforum .
The protesters threw empty pill bottles into the Temple of Dendur Reflecting Pool, staged a "die-in" and handed out P.A.I.N. (an abbreviation for Prescription Addiction Intervention Now) flyers with a list of demands, including that the Sackler family should to invest 46 percent of their profits towards funding treatment centres and campaigns that advertise the dangers of opioid drugs like OxyCotin.
Nan Goldin "declared war" on the opioid pharmaceutical business after publishing an open letter earlier in January, saying what she had faced in her struggle with her opioid addiction caused by pills produced by the Sacklers' firm. She was supported by Elizabeth A. Sackler, an philanthropist and heir of the corporation, whose stake was bought by her uncles before the company began to produce dangerous medicines. Nan Golding launched an online petition, calling on Purdue Pharma to "respond meaningfully" to demands and problems of people. More than 30,000 people have signed the petition.
Subscribe to our mailing list: