Locals were angry that the street artist put mosaics on sacred buildings.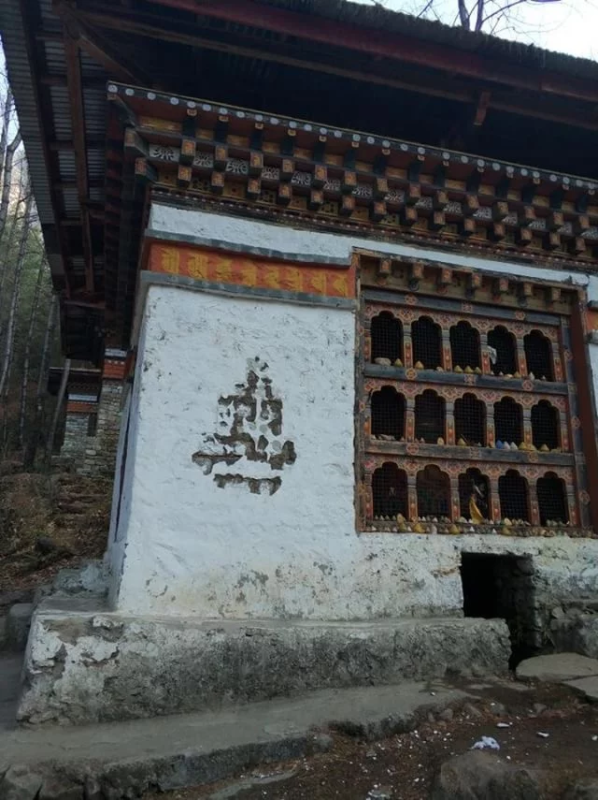 The mark left on the temple after the mosaic of a levitating monk was removed. Source: @yeozar29/Artnet
French street artist Invader said last week that he had installed his iconic mosaics with the permission of the "chief" monk, but it didn't help his works remain on sacred buildings popular among locals and tourists.
Among the removed works are a levitating monk, a dragon and a target, Kuensel newspaper reports. The damaged buildings will be renovated.
The country's home minister Dawa Gyaltshen told the newspaper it's premature to comment on the incident at this stage, adding that the authorities were investigating how exactly the street artist installed his works at the sacred sites.
Artnet tried to contact the artist and local officials for comment on the removal, but neither of them responded.
The government's decision to remove the works was welcomed by many locals, including a guide nicknamed @yoezer29, who wrote on Instagram: "Finally! Thank goodness. #invadershouldnotbehere." However, fans of Invader's art are disappointed: "We were worried that people might steal the installations to sell them, but for it to be vandalized like this is so saddening but also embarrassing for us as a nation," photographer Pawo Choyning Dorji wrote on Instagram.
Subscribe to our mailing list: