The mix of reactions shows the ideological split in the country's cultural sector.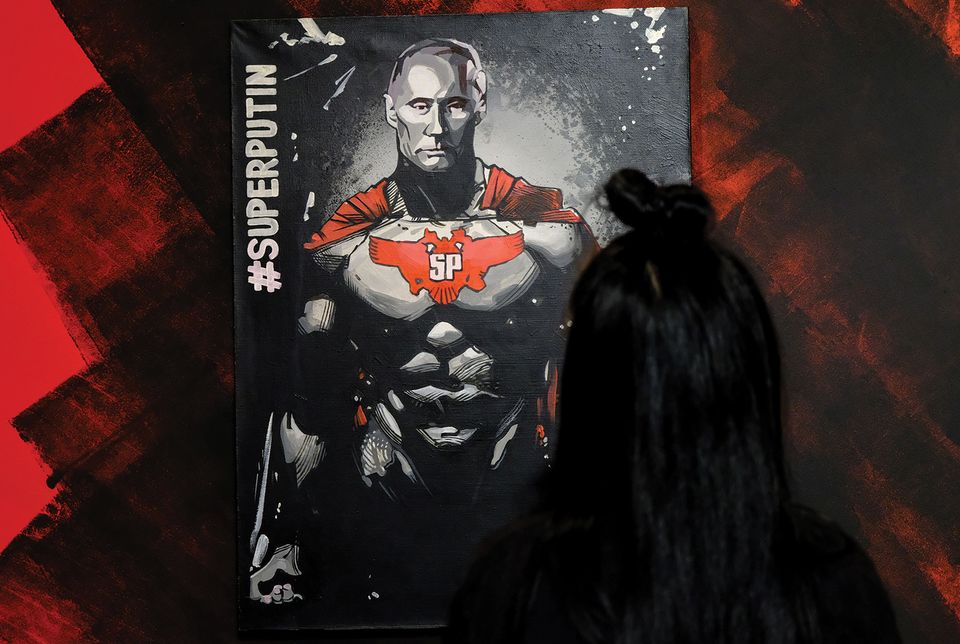 Putin as a superhero, an ironic reaction from an artist. Source: YURI KADOBNOV/AFP/Getty Images/The Art Newspaper.
Artists show a range of opposite emotions over the prospect of having Putin as president for six more years. Pro-Putin artists present works to praise him, while independent ones deride him, flee the country or stand trials.
Anticipating the inevitable, Alexnder Donskoy, a former mayor of Arkhangelsk turned artist, sponsored the exhibition titled Superputin at Moscow's Museum of Ultra Modern Art (UMAM). The artist promised to pay 100,000 rubles to anyone who would invite Putin to the exhibition. The show will run until January 15.
Right-wing artist Alexander Belyaev-Gintovt has opened an exhibition at the Moscow Museum of Modern Art praising a mythical medieval Christian kingdom in central Asia. He is a member of the Russian Art Union, a new alliance of contemporary artists and cultural figures who challenge the liberal values prevailing in the art world, support the Russian Orthodox Church and see "promotion of patriotism" as their mission.
While pro-Putin artists intensify their activities, crackdown on liberals continues. Theatre director Kirill Serebrennikov, the founder of Gogol Center, is under investigation on fraud charges.
Meanwhile, cultural figures who left the country continue to openly crticise Putin. Collector, art manager and gallery owner Marat Gelman moved to Montenegro in 2015. In a series of Facebook posts, he wrote that Putin's decision to run for a new term confirmed his decision to leave the country, the Art Newspaper reports. "To have nothing to do with this government, to be a 'Russian curator under a neutral flag'—that is my identity for the coming six years," he wrote.
Subscribe to our mailing list: