Luis Manuel Otero Alcántara, who was detained for "illicit possession of construction materials", has went on hunger strike.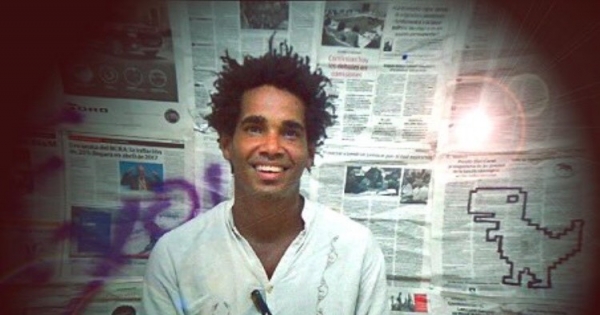 Photo: https://secure.avaaz.org
Luis Manuel Otero Alcántara and his partner Yanelys Nuñez Leyva, an art historian and curator, are organisers of the #00Bienal Havana Biennial, an alternative art event. They decided to hold it after the country's authorities postponed the 13th Havana Biennial due to damage caused by Hurricane Irma. The artist was detained a day before a press conference on the alternative biennial.
Artist Coco Fusco, Alcántara's friend, told hyperallergic.com that his aunt visited the police station after the artist's arrest to say that the materials belonged to her, but the artist hasn't been released. It is still unclear what the offending materials actually are.
The police also searched the site of the planned press conference. Police officers said it wasn't a political case and promised to release the artist the next day, but it didn't happen. Cuban artist Tania Bruguera started an online petition calling to free Alcántara.
Alcántara told told Diario de Cuba last month: "The biennial doesn't belong to the institutions, but to artists; I think it's the country's most important cultural event, and that is why we decided to organize it ourselves."
Subscribe to our mailing list: