The 81-year-artist continues to create mind-blowing art, combining traditional Japanese techniques with modern life and its problems.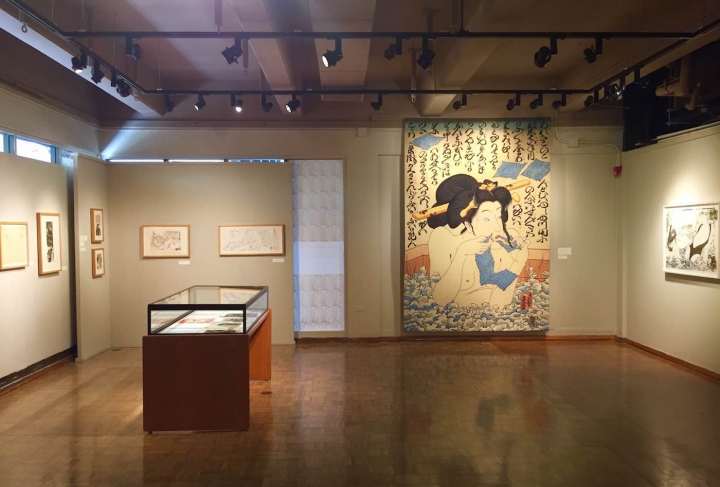 Masami Teraoka's exhibition at the Koa Gallery. Photo courtesy of the artist and the Koa Gallery
The exhibition features a new triptych titled The Cloisters in the style of religious Renaissance and medieval art, depicting topics such as Monica Lewinsky and the Clinton impeachment, clergy sex abuse scandals, artistic freedom in Russia and the threat of nuclear war. His new artworks include graphic murals featuring Pope Francis, Vladimir Putin and the geisha Momotaro in passionate, disturbing scenes.
Asked by Hyperallergic what he focuses on today, the artist said: "One is North Korea. The way I see, their leader is a crazy, spoiled boy. But he can still actually wipe out the Earth. And that means all our education about humanity and everything won't have any relevant meaning. Two suns … it's nonsense. With an imminent nuclear threat, nothing makes any sense. Everything becomes nonsense."
It's not the first time when artist has come to Honolulu. In March 2017, Teraoka, Pussy Riot choreographer Viktoria Naraxsa and costume designer Masha Kechaeva held an experiment performance base on William Shakespeare's Tempest at the Honolulu Museum of Art School.
Masami Teraoka is a contemporary artist known for his strange, absurd, unusual artworks. He combines traditional art styles and techniques with modern problems and topics. His works can be found in over 50 collections around the world, including the Metropolitan Museum of Art, the Tate Modern, the Fine Arts Museums of San Francisco, the National Portrait Gallery and the Smithsonian American Art Museum in Washington, DC.
Subscribe to our mailing list: