The artwork now depicts both unexpected turns in politics and a desire of the progressive part of Lithuanian society to legalise marijuana.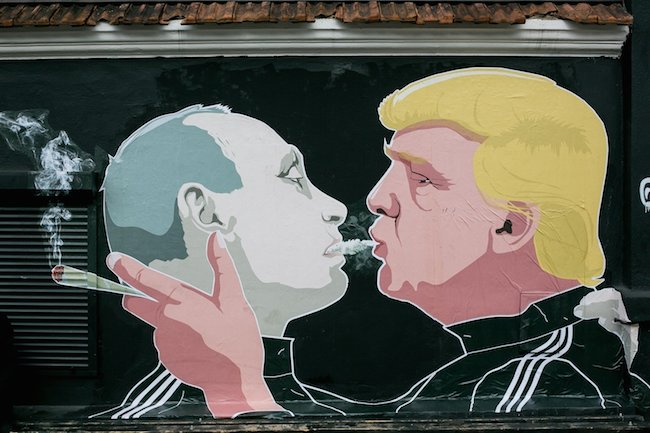 Photo: wikipedia.org
The mural title Make Everything Great Again is a reference to the slogan of Trump's election campaign Make America Great Again. The mural was inspired by the famous graffiti on the Berlin Wall depicting Soviet leader Leonid Brezhnev kissing communist East Germany leader Erich Honecker. The kiss is based on a photograph taken in 1979.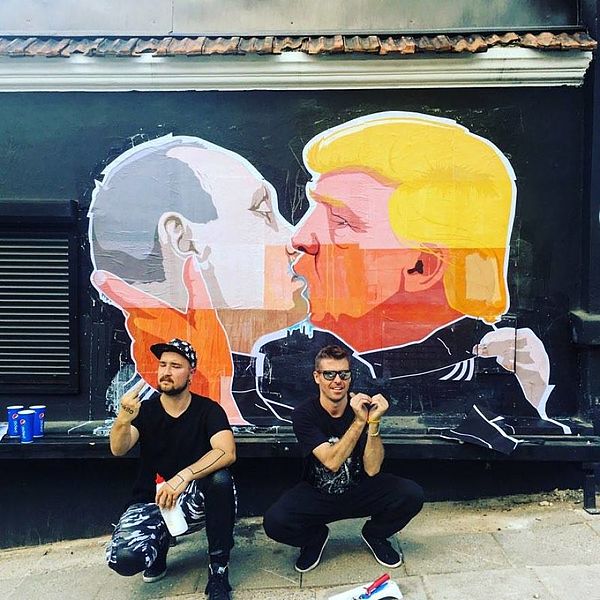 Photo: wikipedia.org
The mural was created on May 13, 2016, on the wall of the barbecue restaurant Keulė Rūkė (Smoking pig) by artist Mindaugas Bonanu and restaurant owner Dominykas Čečkauskas. It went viral and was even greeted by the city authorities.
Vilnius mayor said: "Vilnius is a city of freedom, love and beauty. Vilnius is a city of freedom, where we don't have to be afraid of weapon rattling just several dozen kilometres away and express what we believe in without censorship. A city of love where two homophobe men can kiss, one of whom is also aggressive to his neighbours."
The mural was damaged by unknown people a few days later, which was regarded as an infringement on freedom of speech in Lithuania by supporters of authoritarianism. The artists promised to restore and repaint the graffiti, which was fulfilled later. Though the artwork acquired an additional connotation associated with marijuana legalisation, city council member Aušrinė Armonaitė attended the re-opening.
Subscribe to our mailing list: