The venue isn't disclosed in advance. You get a text instructing you where to convene. When the allotted hour comes, you're taken to the temporary performance space. You must bring your passport – not to identify yourself at the door, but in case you get hauled away by the authorities.
★★★★
By Dominic Cavendish, theatre critic, telegraph.co.uk
Welcome to the stressful, fearful (but yes, high-adrenalin and pulse-quickening) world of Belarus Free Theatre. This company has fallen so foul of the regime of Alexander Lukashenko – often described as "the last dictatorship in Europe" – that its founders have had to base themselves in exile in London (under the artistic auspices of the Young Vic, with distinguished support from the likes of Tom Stoppard, Jude Law and Kevin Spacey).
Work continues back home, though, at incredible risk and in all kinds of locations – apartments, forests, former garages.
So this fortnight-long retrospective season, marking 10 years of the company's against-the-odds survival, has a triple function: to give London audiences a flavour of the clandestine conditions in which the work is presented, to provide a comprehensive sample of their productions to-date, and also to connect free citizens in the West with their far-more-restricted counterparts in Belarus.
Perhaps the most moving moment at the opening performance of the mini-festival (Staging a Revolution) came when co-founder Natalia Kaliada tilted a laptop at the audience huddled on benches in a dank brick-walled basement in Clerkenwell. On the screen, we could see a group of BFT supporters watching the event back home thanks to a live-stream. We waved.
They waved back. From such simple gestures of solidarity and empathy, perhaps, democratic revolutions can be born.
The performance that followed – a revival of Sarah Kane's pitch-black, white-hot evocation of suicidal tendencies, first presented the year after she hanged herself in 1999 – was delivered with a furious intensity rarely seen on these shores. Banished to distant memory was the cool, clinical, sorrow-suffused premiere at the Royal Court.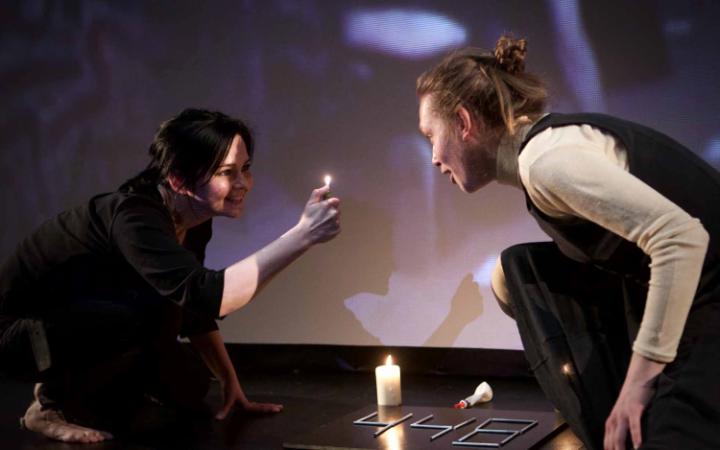 A wild, two-woman carnival: Maryia Sazonava and Yana Rusakevich
Under Vladimir Shcherban's direction, Maryia Sazonava and Yana Rusakevich gave us a wild, two-woman carnival of unhappiness in a closely confined, cell-like space.
Responding initially to a projected video recording of the original performance in Belarus (the company's first venture), the pair at times acted in eerie consort, like panting, scrabbling lovers; and at times in anguished isolation, like the inmates of an infernal Bedlam.
This was all-or-nothing theatre, love me or kill me. For an edge-of-your-seat, cold-banishing hour or so, they were the perfect conduit for Kane's fragmented outpourings, a spillage of mocking torment, loss of love, hope and self.
The regime banned the production on the grounds that mental illness of such sort, despair of such magnitude, could not exist in a country so blessed.
Faced with such lunacy, the personal becomes political. The line "I feel that the future is hopeless and nothing can improve" rang forth like a slogan of generational nihilism. But in our own small way, by watching, by donating too, we can help.
Subscribe to our mailing list: