Drawing on personal experience, the award-winning troupe delivers an impressive evocation of the psychological impact of life under a dictatorship.
Maeve Shearlaw, theguardian.com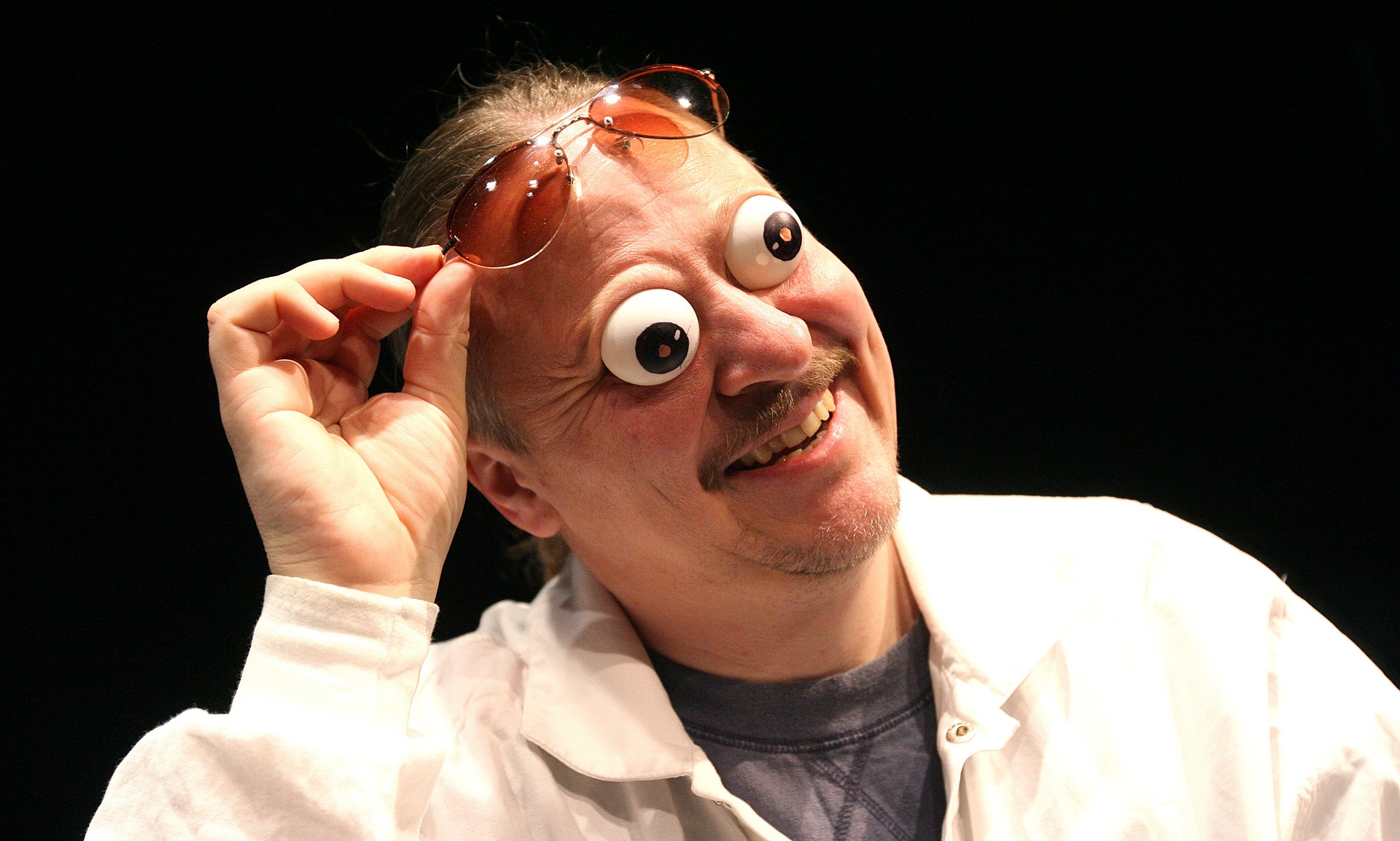 Nikolai Khalezin turns KGB officer, looking for contraband. Photograph: Tristram Kenton for the Guardian
"Your meeting place is the Steps of St John's Church… please bring with you: cash, ID and warm clothes," reads a text a day before the Belarus Free Theatre performance in London – as is customary 24-hours before a show is due to begin.
Twelve hours later another text comes warning about potential disruption due to a Million Mask March, protesting against government encroachment on civil liberties, held on Bonfire night in tribute to Guy Fawkes.
While the invite procedure is similar to a theatre performance in Minsk, the London affair is rather different. "In Belarus there are no protests," says Eugene Karpov, a Belarusian journalist who attended the performance.
The former Soviet country is governed by Alexander Lukashenko, frequently referred to as Europe's last dictator, who does not tolerate dissent.
Also, because it's London, "we're not likely to get a KGB raid – which unfortunately in Minsk was part our lives," says Natalia Kaliada, who founded the theatre troupe with her husband Nikolai Khalezin and Vladimir Shcherban in 2005. All three have since been forced to seek exile in the UK.
In Belarus members of the troupe who remained behind still put on performances, which are held in secret to protect the audience as much as cast. "They could loose their education or their parents could lose their jobs if they were caught," says Kaliada.
No one who turned up to Thursday night's show seemed concerned, despite its location in a multi-storey car park almost directly under the Houses of Parliament.
The show was part of a two-week run in pop-up locations across London, all being live streamed online. Performers change every night and on Thursday it is Khalezin alone, who delivers as 90-minute Russian monologue supported only by a DJ and English subtitles projected on to a concrete wall.
Freedom jeans
It's a part-autobiographical story of growing up in the Soviet Union and waiting for the freedom that never came – told through the medium jeans.
Denim and rock n' roll music were illegal commodities in the days of the USSR. The cool kids wanted to buy them but selling them could have you arrested by the KGB.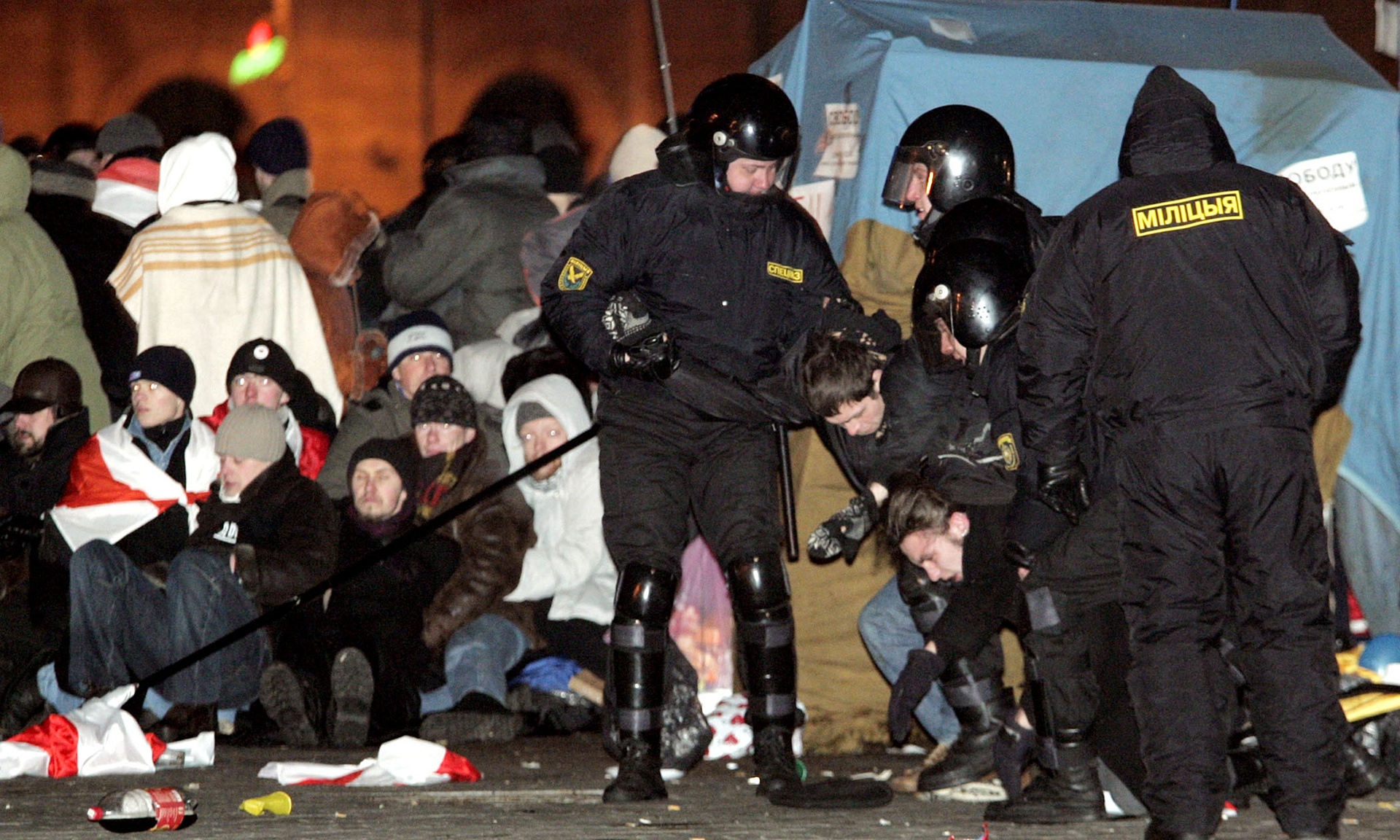 Belarusian police storm an opposition camp during protests in Minsk in 2006. Photograph: Ivan Sekretarev/AP
Fast-forward to 2006 and denim became the symbol of an uprising after an opposition protester used his shirt to turn make a flag. The so-called "jeans revolution" was born. A decade on and the government has all but stamped out dissent and music is still heavily censored.
In London there is a sizeable number of Belarusians in the crowd, who are able to appreciate every cultural reference. One of them is Karina Nepomnyashchay, a drama student who has been living and studying in the UK for the past year. "There is no other theatre in Belarus," she says.
Khalezin changes jeans three times during the performance – from bell bottoms (big in the Soviet 80s), to a straighter leg (the protest years) to a relaxed skate fit which appear to reference his time in London – and gives an arresting performance.
His stories of evading the KGB in a top Minsk hotel are hilarious and his account of his 16-day detention offers a real sense of the helplessness that results from having your fate in the hands of the authorities accused of murdering your comrades.
And he manages to make the vast car park feel claustrophobic as he marks out the size of a jail cell in paces: "three-and-a-half metres this way, three-and-a-half metres back."
The setting is authentically underground. There is no phone signal but sirens and helicopter of the Metropolitan police's operation of the streets above add to the experience.
Whilst the Belarus Free Theatre troupe has always drawn on personal experience in its work, performers are able to sketch the impact oppression can have that feels like it would be applicable to any country around the world.
The overwhelming sense you are left with – to borrow a phrase from the jeans revolution – is that life under a "dictatorship is shit".
Subscribe to our mailing list: