Musical critic and writer Tatsiana Zamirovskaya has been and remains among the most remarkable journalists in Belarus for the last 15 years. She moved to the United States three years ago, where she graduated from the famous Bard College with a master's degree. She continues to live in New York, focusing on literature and essay writing.
Palina Adashkevich
For the project Citizen Journalism
What does music criticism mean for you? Why did you choose it? Do you feel you are an in-demand author in this sector?
I think I don't do it any more. Perhaps, these are the most dramatic questions of my life – what does music criticism mean to me and why did I do it? Perhaps, it was a mistake to choose music journalism. Initially, I wanted to be a professional musician, then I wanted to write and then I decided music journalism is a perfect way to combine both activities. It turned out to be untrue. Later, I used the genre to understand how creativity actually works – I thought musicians could explain something to me.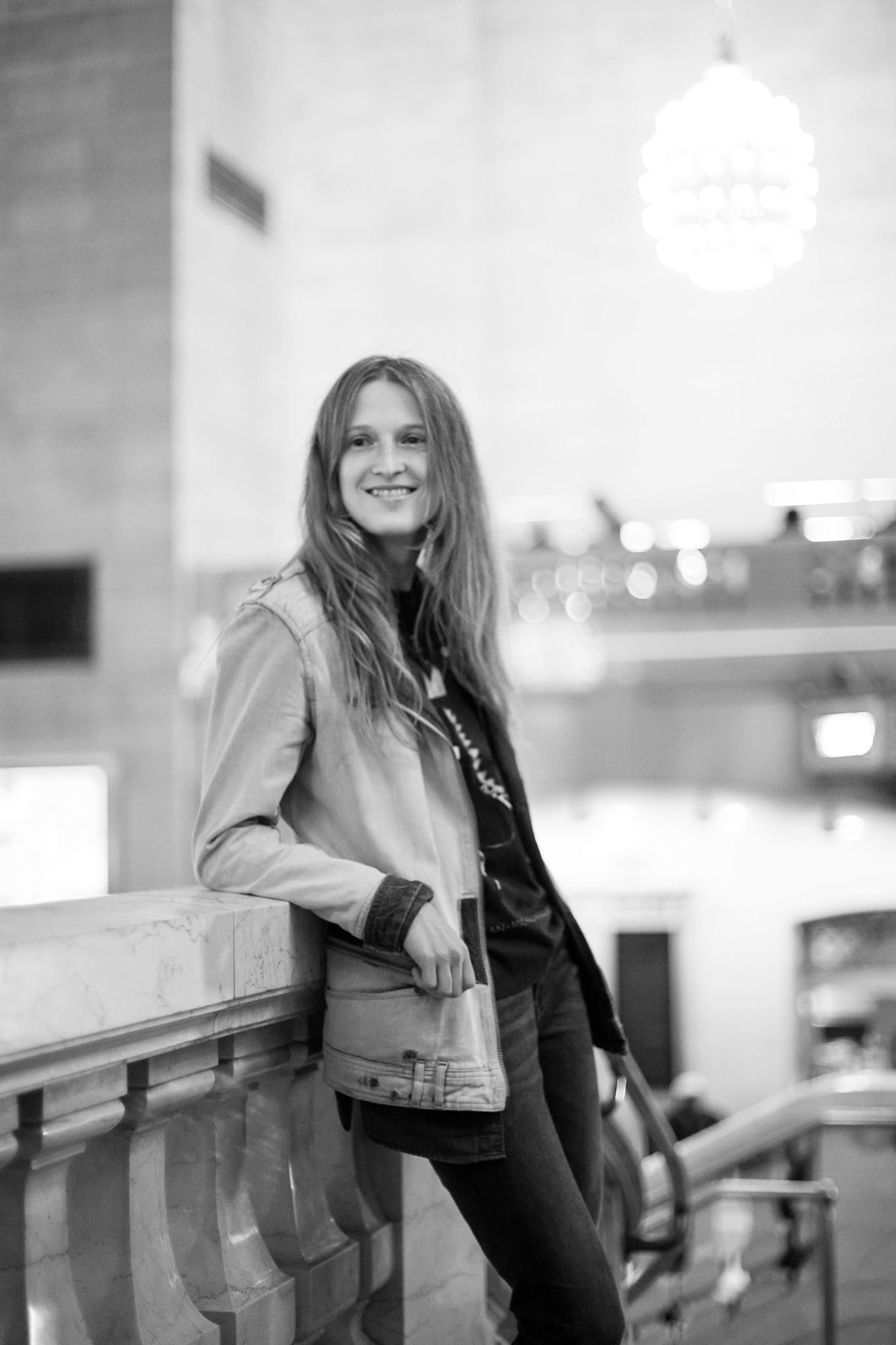 Tatsiana Zamirovskaya
It was a wonderful period when I was working for Muzykalnaya Gazeta, a music newspaper. People still tell me from time to time: "We grew up with your articles in Muzykalka!" I was inspired by the motivation to share my favourite music with everyone and try to interpret it through text. Later, I began working for Belgazeta and my motivation changed – I wanted to analyse absurdity, madness and chaos of out cultural space. I covered festivals of Russian chanson, Song of the Year festivals, Eurovision and the Slavonic Bazaar festival. I am still very proud of the title "Slavonic Bizarre" I made up. Now, after I moved to New York, Sasha Charnukha writes for Onliner in a similar genre of chronicles of the apocalypse – it's a real garden of earthly delights, I like reading him so much. I mean this genre is defenitely necessary and useful, I think.
What concerns Belarusian music criticism in particular, everything I did wasn't useful for anyone. Most musicians didn't like what I was writing and how. There was much terrible feedback and unpleasant stories. I remember that experience as a total failure. It happened so that I wasn't involved in anything, I did nothing for Belarusian music, no musicians can tell me: "Thank you, you helped me." I just created texts, trying to make them look weird and creative. I had a couple of awesome interviews with Siarhei Mikhalok, I talked to all my teen idols, wrote lots of gonzo-style stories. But on the whole, it was an individual creative project rather than working for the benefit of Belarusian music, to my deep regret. However, it's good that I almost don't have things I am ashamed of! I am thinking of writing a book one day about what it means to be a female music critic in a post-Soviet totalitarian country in the 1990-2000s. But I'd like to focus on the reconstruction of personal memories rather than on the imitation of historical truth. It could be a sort of a failed memoir. People will tell me: "Hey, it wasn't as you write it." Actually, it wasn't like that indeed. I am a bit player, an observer, and I've always been, and I need to use it. I wasn't anywhere actually, but I turned out to be a speaking witness.
Are there any criteria that could show whether you have a music taste or not?
I'm still not sure what music taste is. There are criteria that show you haven't got taste. It's when you don't distinguish vulgarity from sentimentality, for example. Or, for instance, when you don't feel your favourite musician has gone wrong, become something he didn't use to be. Or when you don't like something only because it is strange or unfamiliar. Probably, taste is a person's inner work to deconstruct meanings, conscious listening, trained perception, curiosity to learn new things and respect for old things.
Which concert you've attended do you remember best? A perfect concert is…?
If we take the recent ones, it's Patti Smith in New York's Central Park on a lawn at night. It was a concert on the summer stage, you had to buy a ticket, but the nearby hills were full of people without tickets, it was incredibly beautiful – you are lying on the ground, staring at stars and planes, with dogs running up to you and looking into you face. The Who concert in Brooklyn – I dreamt about it since I was 15, they are as cool now as they were in the 1960s, I'm serious. The presentation of the new album by Arcade Fire at Madison Square Garden – they managed to play a stadium-like concert at a small boxing ring, working with the huge crowd as if it was a club's audience. It was really the effect of almost a personal contact. With their New Orleans-based marching big band, they made their way to and from the boxing ring stage through the crowd. The magnetic Gang Gang Dance on the roof of a gallery in Chelsea – it was a flashback of when I first heard them nine years ago in Brooklyn's Prospect Park. Psychic TV in Williamsburg with the presentation of their new album Alienist – an incredible energy really mixed up with a sort of magic. I wish Genesis P-Orridge could cure his damn leukemia and play another thousand of concerts.
Among the earlier concerts I remember is The Cure in Budapest in 2002. Everyone remembers their first The Cure concert for the rest of their life. Three hours of pouring rain and music, all are wet and happy. I also remember all my Porcupine Tree and Steven Wilson concerts (Warsaw, Krakow, Moscow, Moscow, Warsaw, New York and New York again) – very few musicians can work with space and time on the stage as he does. At one of his New York concerts, he lost his voice completely and played an brilliant two-hour show without saying a single word. I know it's impossible, but it happened. I also remember a Peter Christopherson concert – I was lucky to see him, ask all important questions, hug him and take a picture. I was so excited to see my idol at the concert that I had a severe migraine attack, which almost killed me. But I didn't die. Christopherson died maybe a year later. Another concert I remember is that by Paul McCartney in Kyiv – three hours of delight and tears, and heavy rain. Saakashvili in trackpants was standing near me, it was the fan zone. I have an impression that you need to stand waist deep in the water to remember a concert for the rest of your life.
A perfect concert is any concert by the band Hamerman Destroys Viruses (Khamerman Znyshchuye Virusy).
What unites music and literature for you and why?
An elusive opportunity to interpret them through text. Though a writer can perhaps make an attempt to combine them in a creative project, for example, Salman Rushdie's book The Ground Beneath Her Feet successfully does it, though it you think more about it, it's not quite so. However, it's the favourite book of my youth. I've recently read the incredible book titled Hot Music: Ragmentation, and the Bluing of American Literature, whose author, Steven Tracy, uses an interdisciplinary approach to explore the impact of American blues and jazz on the 1920th literature. It appears that everyone – Herman Melville, Gertrude Stein, let alone the Jazz Age writers such as F. Scott Fitzgerald and others – all of them were hugely inspired by Afro-American music culture and traditions. Tracy himself, Professor of Afro-American Studies, is a blues musician who performed with B.B. King and Muddy Waters.
Have you tried to write in Belarusian? Do you feel part of the contemporary Belarusian literary process?
Of course, I feel. However, no one seems to feel the same. I decided not to think about it when I lost, let's say so, the Karatkevich young writers competition in 2005 because I submitted texts in Russian. I tried to write literature in Belarusian, of course. Maybe it was the result of resentment. But I didn't continue because it looked like a manipulation to me, as if I was doing it on purpose to be accepted in the community, in the process. I needed a higher, more noble motivation. I surely had it, but I didn't believe myself and caught myself speculating. Actually, I haven't shaped an utterance that can be expressed only in Belarusian; I am now interested in disintegrated imperfect aphasic Russian relieved from totalitarianism. I like thinking that we, Belarusians, have kind of appropriated it in revenge for everything.
To "be part of the process", you need to reflect what's going on in society, some physical, multidimensional things. But I kind of reflect metaphysics – one can notice slightly in my non-journalistic texts that I have connections to Belarus. But if I exaggerated geography or national markers in them, metaphysics would shatter. It is a conscious choice; working on topics I'm currently interested in is possible at a price of being removed from the process. Maybe the language is not the matter. Even in the context of journalism, I've never felt part of the Belarusian media field or part of Belarusian music criticism. In general, I've always been somewhere on the sidelines, I've never been involved in anything completely.
Here is the most traumatic example, by the way: once a popular Belarusian poet learnt that I'd worked for an independent Belarusian-speakigng radio for seven years, and began to laugh at me, like "Is this true? Are you serious?" He then said: "It's really so surprising: Zamirovskaya and this radio. You might think, 'What can they have in common?'" I understood later that he was right: when my project on the radio was closed, they forgot to inform me, so I continued sending them my podcasts for a month though they were not aired. Only dark oak forests of Belovezhskaya Puschcha heard my ghost show.
Have you had a shot at dramaturgy? Do you think it's possible to stage your stories in theatre or turn them into films?
Brilliant Ukrainian filmmaker Mikhail Lukyanenko made an awesome short movie based on my play Robbery.
Before that, he made a film based on my story Life Without Noise Pain.
By the way, Mikhail also made a film based on Serhiy Zhadan's book Depeche Mode which I strongly recommend.
For the past two years, I've been writing very cinematic multidimensional novellas that can be easily turned into films or plays. It would be great if someone could find it interesting.
You've recently graduated from Bard's MFA program. What is the difference between educational processes in Belarus and the US? How has this experience influenced you and your art?
I can't speak about the process itself – I didn't have normal studies here – from a high school to undergraduate and graduate programs. I graduated from an experimental MFA program founded by brothers Adolfas and Jonas Mekas, famous figures in independent filmmaking, in the early 1980s. The program differs from American education probably more than American education differs from Belarusian one. They have summer sessions, each student follows their individual program; tutors are well-known established artists; communication is based on a series of endless studio visits, criticism and discussion – I mean no theory, only dedicated practice 24 hours a day.
As of now, my superficial conclusions on the difference between the American liberal arts education and our education in humanities are as follows:
– colleges are mostly left-wing or left-liberal;
– more interaction and interdependence with professors, who can be fired if student evaluations are low;
– independence and personal responsibility for the process: education in the US is a luxury, privilege, investment in your future, so students are much more motivated.
You write in one of your articles – "home is a place where nothing changes." What exactly creates the feeling of constancy, permanency? Where do you feel at home?
Now I think home is any space where you can feel yourself as much as possible at a certain point of time. I've recently showed my friends Bard College; we drove to the mountains in New York State where it is located, I got out of the car and got stunned literally: I am home again! It turns out that I have yet another point where I have home. Everything can change there, but the feeling "I am in my place, in the complete package" will always come to me there.
Do you feel a connection with Belarus at a distance?
Probably, a too strong connection. My friends tell me I should feel it less.
Latest tracks on your playlist?
MGMT's Little Dark Age, Belle And Sebastian's We Were Beautiful, Genesis P-Orridge and Cotton Ferox's Searching For Substance.
Subscribe to our mailing list: