If we imagine the entire path of a composition, from its origin to its completion in a real interpretation and performance, we can see a line passing from infinity, through the finite and definite elements of the written score, and back to infinity or eternity.

As I have recently focused on large-scale works I would like to share my thoughts in search of instrumentation forces and solutions being limited with the university curriculum. My latest commission for an orchestral piece did not allow me to write a piece longer than 5 minutes. Before I could develop the main idea and set 70 musicians in motion, I had to finish the piece. Composing for the whole orchestra is like pure poetry that is why it is so difficult to follow time limits. They say everybody gains experience with time. The original stimuli of art are infinitely complex, the sound elements that need to be written as notes are finite, and the number of interpretations that appear out of them is endless. So self-discipline and self-limitation is one of the ways to self-motivation and success.


"Vermilion Aurora" by Blanka Stachelek

Opera is a large-scale work, which incorporates many of the elements of spoken theatre, such as acting, scenery, and costumes and sometimes includes dance. As it is an art form in which singers and musicians perform a dramatic work combining text (libretto) and musical score, usually in a theatrical setting, the possibilities and requirements that the genre gives to a composer are fascinating. Classical understanding of the opera, especially its form and core, is coexistence and cooperation of different fields of art, which complement each other creating a single whole.


Aria "Un bel di vedremo" from "Madama Butterfly" by Giacomo Puccini

I mean fantastic operas from the beginning of this genre in early 17th century to 19th century's hits like The Marriage of Figaro, Madama Butterfly, Rigoletto and so on. They are brilliant and famous. However, they belong to the passed era. We need contemporary works of the 21st century. All the possibilities, which new century gives us - technology, better abilities of musicians and dancers, amount of different specialists in every field, should be used to create new quality of opera with content, drama, music that suit today's audience better. Composing and performing styles change with the tastes and moods of the times. At the same time they should remain in the realm of high-quality performances in the intellectual sphere for those who appreciate involved listening, thinking, understanding and emotional empathy. Opera used to be an entertainment for elites only. Today everyone, who likes this kind of entertainment, can go to the opera house (or find the recording in Internet) and enjoy the show. I dream about more and more people are fond of listening to classical contemporary music. That everyone, who need a break from the rushing everyday life, would go to the opera house and enjoy an intellectual and artistic feast. It is my recipe for contemporary opera.




An excerpt from "L'Amour de loin" opera by Kaija Saariaho

How to start writing an opera? Choose a libretto first. I composed two operas by now "The Hour Glass" in co-authorship with Ignatius Sokol, who adapted the play written by William Butler Yeats, and "Out at Sea" based on the play by Sławomir Mrożek, which was written in 1961. The rules traditions of the western society have not changed much for the past 50 years. There is plenty of remarkable plays, stories, novels, which could be used as an opera context. Mrożek's play has different resonance now but it is worth bringing it back. However, how fantastic it would be to collaborate with a writer, a real live person!


"Stories told Out at Sea" by Blanka Stachelek



If asked I would say to find an idea for a new opera is a good job that needs research, looking for a right subject and object, set of characters, thinking of work duration, an interesting plot, unpredictable twists. I always look for stories, which could cover a wide palette of emotions. A complex score intended for numerous and diverse orchestra members allows the composer to avoid the arbitrariness of the individual performer. The composer considers joint music-making as a blending of many personae sharing a unified goal. I always keep in mind that the interpretation of an opera is realized not by one person but as the joint effort of a large group.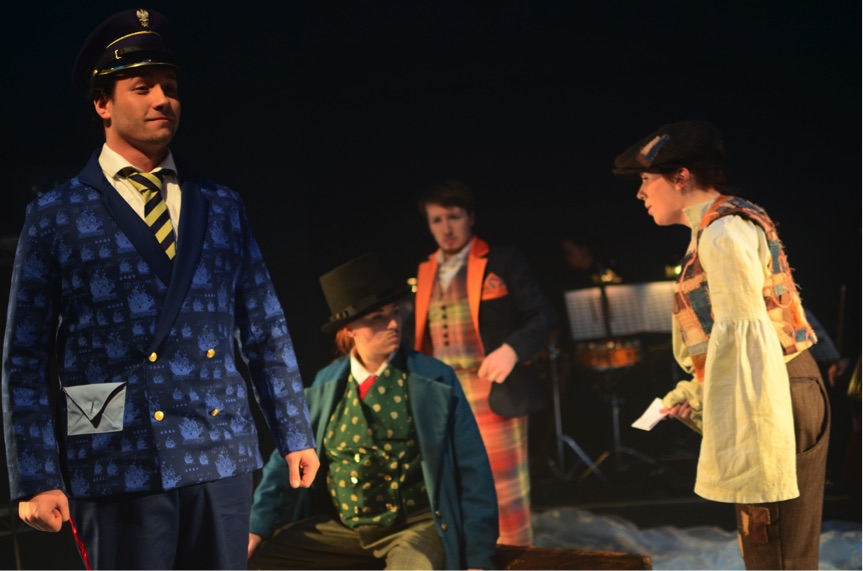 "Out at Sea" opera – photo taken during the full run
The performances of "Out at Sea" take place at The Crescent Theatre Studio in Birmingham this weekend, but I already have ideas for the next work.
To know more about the performances follow the link: www.crescent-theatre.co.uk
Subscribe to our mailing list: