I fell in love during my first visit to New York at the turn of the millennium. I fell in love with the city that was haunting me in literature and cinema and luring me by the greatest cultural phenomena of the past century, the city that I, as it seemed to me, knew better than any other one in the world. We met finally, and for a long time it secured the top position in the ranking of my favourite cities I have visited for many years of trips across different continents.
I understood as soon as I came that there are different cities – "members of the ranking of different cities," and there is New York, the only name on the "list of New York cities." It would be ridiculous to deny its leadership, even though only Manhattan can be considered as the city, while the rest boroughs – Brooklyn, Queens, Bronx and Staten Island – are rather boring extensions to the city that is also the sign, the symbol and the phenomenon.
The sight of Woody Allen sitting at a corner table at a small restaurant in Manhattan and eating spaghetti off the plate that seemed disproportionate to his body fascinated me during my first visit, as it would fascinate a Hindu who saw Ganesha playing the flute. Scenes from New York independent films, which godfather was phlegmatically winding spaghetti onto the fork, whirled in my head. My friend said in a low voice: "This table is always reserved for him."
Time went on. Famous people suddenly appearing in the relief of the city landscape didn't come as a surprise to me any more, and the emotional component was verbalised in the convenient phrase: "This is New York!" It suited perhaps all situations: from a charming family riding their skateboards on the carriageway of Fifth Avenue to Keanu Reeves sitting on the grass in a park and tucking into Chinese fast food from a cardboard box. This is New York!
At a dinner with Tom Stoppard at an ordinary pub in central Manhattan, I decided to go to the restroom and found Morgan Freeman chatting with a woman in the neighboring booth just a couple of steps from our table. Such a high density of geniuses per square metre would perhaps seem excessive to me in any other city, but "this is New York."
It contains so many things that even writers described Manhattan only fragmentarily, in parts, disassembling their "service zones" almost into streets and quarters: Crane, Salinger, Fitzgerald, Kathy Acker. Even one of the greatest "singers" of the city, O. Henry, confined himself to a modest zone of 20 streets.
Here rock and hip-hip were born; Manhattan galleries were setting the tone for strategic lines in contemporary art for many decades; New York indies were outlining main directions first for art house cinema and later for the general strategic development of cinema; local clubs were setting trends not only for DJing, but also for fashion and even drug using.
Fifteen years have passed, and I've visited New York many times. Sometimes I visited it several times a year, living there for weeks and months – in different districts, in different streets: in hotels and private houses, in apartments of my friends and colleagues. I got upset when one of my favourite cafes in East Side closed down; I grumbled in an apartment in upmarket 106th Street that I lacked background sounds of the city; in a hotel in 35th Avenue I was irritated with the Broadway tourist spirit of the nearby streets… But I was always happy to fly to New York to enjoy the city at the top of my personal ranking.
Changes began four years ago, about ten years since we first met. No, I don't mean changes in New York. I mean changes in me, in my attitude to our love that used to be mutual.
On January 3, 2011, we arrived in New York after escaping from Belarus on New Year's Eve. We flew for a long-planned tour, which start coincided with the tragic events in our home country. We were lucky to avoid arrests, but our friends were not so lucky. A month's tour was running its course, while we were going to bed and waking up with our computers switched on, following all events at home. A series of prestigious nominations and awards, events featuring the world' stars to support Belarus Free Theatre – nothing was able to distract us from computer monitors.
Our friend Jakob, executive director of PEN American Center, said after an incredible evening in our honour with Stoppard, Doctorow, DeLillo: "It took me a long time to understand why even this evening couldn't make you actors happy, but now I feel I understand it." We flew to Chicago to continue our tour, returned to New York two months later and again met a wave of praising reviews and prestigious awards. We still didn't feel joy – we were too stressed about events in Belarus.
It's wasn't a pose or showy mannerism. We didn't behave like Alexander Kerensky, the head of the Tsar provisional government who fled to Europe in 1917 after the October communist coup, who said in the 1960s that he "can't go to cinema and have fun while communists are in power in Russia." Not at all. But our state was determined by the state of our friends in prison and our family members who faced constant searches and interrogations by secret services.
We began to live and work in London in spring 2011. Our theatre didn't stop working for a single day. It still worked in Belarus and had tours all over the world.
So, about changes. I found out during one of my visits to New York that I don't have positive feelings I used to receive from the city. Events in Belarus were not the matter. Friends were released from prison one by one, the theatre was working, life was returning back to normal little by little, but my attitude to New York began to change. The Modern Museum of Art was scrutinised floor by floor, the Central Park was examined alley by alley, the city's restaurant map became as detailed as streets and districts.
I had a ground to think seriously what is happening, why New York began to go down in my personal ranking, falling behind London, then Sydney and Hong Kong, and then Melbourne…
Of course, I understood there are no more New York indies in the city; it can't boast being the first in contemporary art, music or theatre. It can't, but it can be easily explained – out of an exporter New York has turned into an importer. The trade union system and the structure based only on private finances raised the cost bar to an incredibly high level, too high for creative teams. Yes, it can be explained. But the situation five years ago was almost the same as today, but my attitude towards the city didn't change at that time.
Yes, New York is dirty, with rats in the subway and lots of homeless people, and relations are hard both in everyday life and in the professional community. But we visited a "witch camp" Ghana; saw a village in Rwanda where only six out of thirty thousand people survived the genocide; visited Uganda, where gays can be hacked with machetes; visited the Amazon River, where we slept outdoors in hammocks… We are hardly so pampered that plastic trash bags in New York streets are able to change our attitude to the city.
It took me some time to understand what the matter was. My attitude to New York began to change after I began to come there from London instead of Minsk. The matter is not the comparison of cities. The matter is physiology. When I flew from Minsk, I accepted almost everything in New York: from endless 24-hour howl of sirens to the grumbling of a shop assistant if you leave the shop without purchases.
Why should I take offence at the only ill-mannered shop assistant in Lexington Avenue, if all shop assistants in Minsk are like him?
Why should I complain about sirens of police cars and fire trucks if I live in the place where dead silence makes you deaf?
Why should I complain about garbage if the streets of you home city so sterile that it looks almost like a cemetery?
Only few big cities in the world are so balanced and organised as London is. You get used to clean streets, excellent metro logistics, polite tactful staff in shops and offices. It becomes your natural habitat over the years. If you leave it and get to conditional Uganda, you forgive the destination place everything, you brace yourself and don't expect much. But when you visit big cities, your organism doesn't understand why "something goes wrong". It's at the level of physiology rather than at the level of consciousness.
One day during our recent tour in New York I met several cars with sirens. I met them not one or two times, but eight or ten. After the third time I instinctively began to cover my ears with hands, but it wouldn't help and I felt my head was about to explode due to my internal hysteria.
Changing a viewpoint leads to changes in your attitude towards the object you look at. It seems to be the simple truth, but in fact it is a metaphor.
"When we look into a mirror we think the image that confronts us is accurate. But move a millimetre and the image changes," Harold Pinter said in his Nobel lecture. I think he meant that if you want to look at things around you, you should begin with giving a look at yourself, not a flat look but a three-dimensional one that can allow estimating your strong and weak points and as well as the positions from which you look at the object.
I am writing it on the train going under the English Channel: We are returning to London from the refugee camp in Calais. We met there with those who had lost their home, country and in many cases their family. It's high time to think about viewpoints, from which we look at some event or other, some people and problems or other.
Of course, New York will remain New York, and I will remain myself. Or, to be more precise, New Your will be changing, and I will be changing. But now, if you happen to be in this city, find some time to drop by Ayza bar in 31st Street and order a piece of pancake cake – no one in the world can cook it better.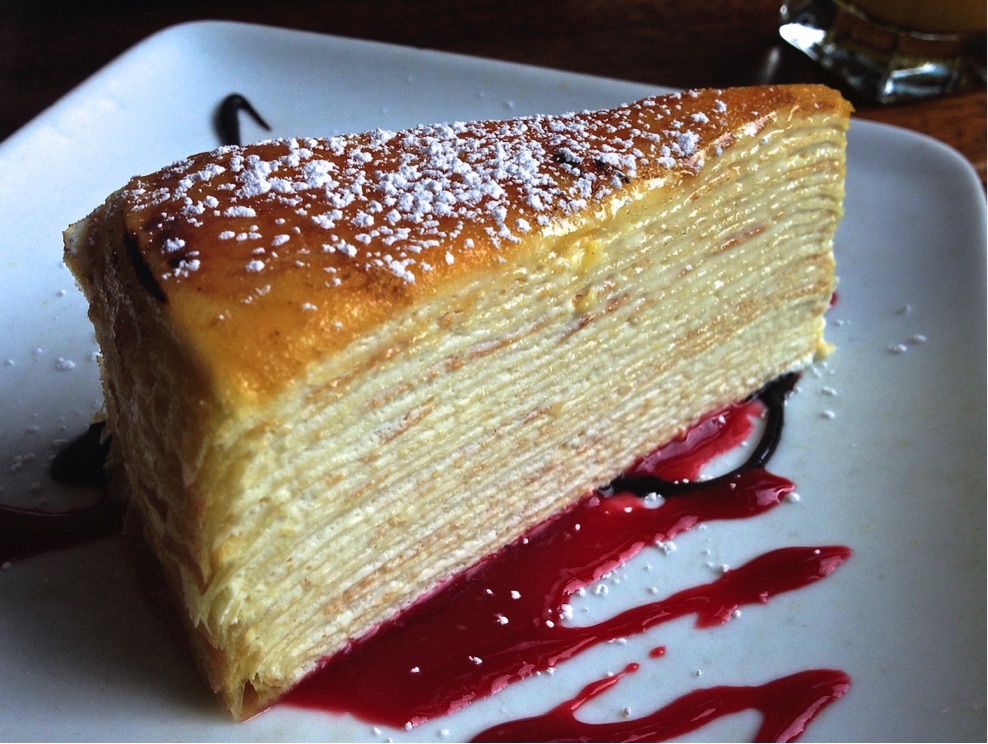 Subscribe to our mailing list: