Yuri Andrukhovych is one of the most prominent writers of Ukraine. He has been a spokesman for the Maidan protests in Kiev last year. But in the latest months, Ukraine has fallen from the radar of the Western media. He offers us an update on Ukrainians after the Maidan and during the civil war.
In 2014 Andrukhovych declared for the New York Times that he had never loved his fellow citizens as much as during the Maidan protests; that remains the case as the Russian invasion sparked more solidarity and idealism, care for others, sympathy, courage and optimism.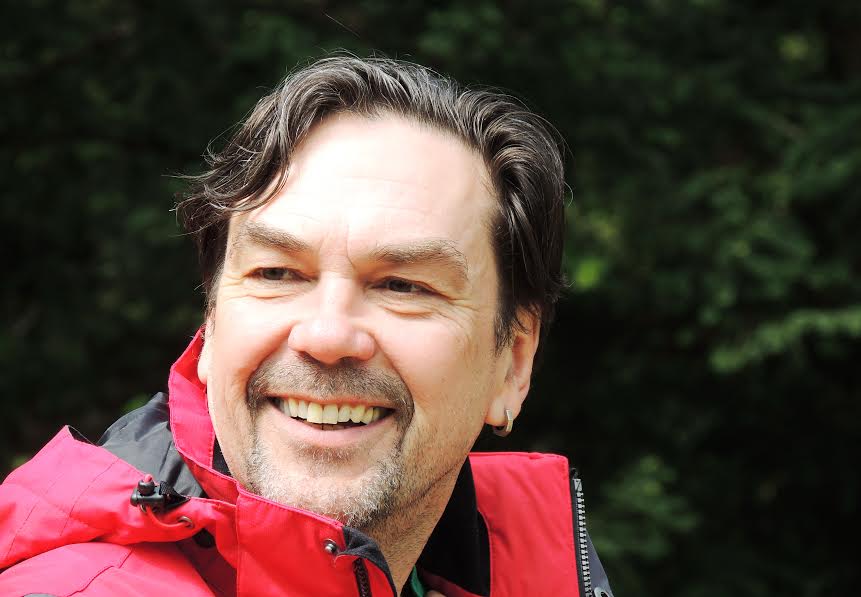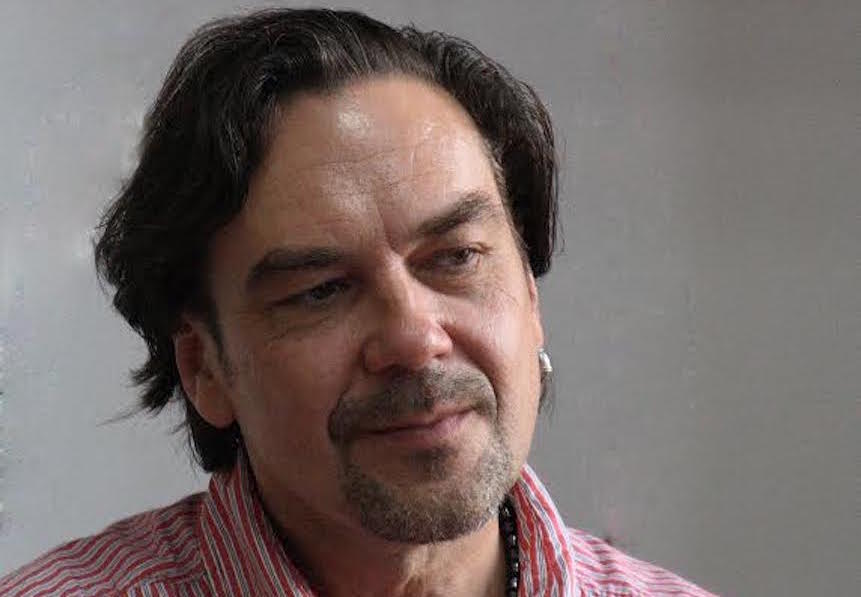 Y.A. The war also generated efficiency, orderliness, self-discipline. And self-irony too, a very fine sense of humor which helped us very much. But even in the East people are trying to live a normal life. Over a month ago I visited Mariupol, a city 20 kilometers from the frontline. I was expecting to see a huge, turbulent military base. But it wasn't like this. What I saw was a nice, warm and lively city with lots of people on the streets and in cafes.
P.E.: What do the professors and intellectuals who made Molotov cocktails in the Maidan do now?
Y.A: They write and teach and discuss. They also actively publish dozens of new books, collections, albums, they create exhibitions and films on the Maidan and life after the Maidan. Many are involved in the war – some as volunteers helping injured soldiers and others as soldiers themselves.
One of the newest publications is a 1,000 page fundamental anthology that documents "Mystetsky Barbakan", an art-structure based in Khreshchatyk Street. There artists held meetings, exhibitions, readings, performances, and also made the Molotovs. After the revolution and Yanukovych's escape, a lot of secret documents have been found in his residence Mezhyhirya, including a draft of instruction for snipers. "Mystetsky Barbakan" was one of the top targets, marked as "Triangle 92". This has become the title of the anthology. Each of us who appeared in Mystetsky Barbakan could be killed by snipers at any moment.
P.E.: The workers, the farmers, the hipster students who wore hockey masks, the grannies and grandpas who brought hot food?
Y.A.: I don't possess full information. They were so many. But if you go east, closer to the frontline you can still meet a lot of ex-hipsters who are now soldiers.
P.E.: The expectations after the Maidan were obviously extremely high…
Y.A.: No, they weren't. The expectations were unrealistically high in 2004 – 2005, after the Orange Revolution. After the second Maidan people became more realistic and – the main thing – more critical. They clearly understand that state power will never be good enough and that civic control over the government is crucial. So, activists are now present in all state structures, they never leave the officials alone.
P.E.: But what would you consider the current Ukrainian government's greatest successes?
Y.A.: The number one success of the current government is the rebuilding of the army – practically from zero as it was in the Spring of 2014 when Russia attacked us.
The second great success is diversifying the sources of gas imports. This is the first time in the post-Soviet period that Russia is constantly forced to lower the gas price. In terms of gas, Russia is now more dependent on us than we are on Russia. It's quite striking that, in premiere, Russia begs Ukraine to purchase Russian gas! Because our government has found several good alternative sources. Of course, this is partly due to the falling prices of oil on the global market but I think that our government has used that smartly.
The third biggest success of the current government is the new police which is now formed of new and young people - a first step in reforming the law enforcing structures.
P.E.: Where has it failed?
Y.A.: So far the government has failed in courts. Judges and prosecutors still stay the most corrupt and very well protected part of the old system, by their collective mass defence.
P.E.: In a speech you gave for the Council of Europe in 2013, you said that in Eastern Europe the ethnic has always dominated over the ethical. You brought the examples of relations between Bosniacs and Serbians, Romanians and Hungarians, Poles and Ukrainians... Why has the ethnic always dominated over the ethical in this region? 
Y. A.: Because democracy has only been in place in Eastern Europe for a short period, it is still a fragile development. The topical reaction to the refugee crisis only confirms that populism still has better chances in Eastern Europe than anywhere else. Populism has become an inalienable part of the democratic systems in the region. And this is of course a great danger.
P.E.: The Russians in Ukraine are caught in a strange position at the moment.
Y.A.: We have to specify who and what are those Russians. Merely speaking Russian, even as a mother tongue, doesn't mean that you are clearly Russian in Ukraine.
P.E.: Let's call them Russian speakers then. In Moldova, many Russian speakers (and they may be Ukrainians, Bulgarians or Gagauz ethnically but they speak Russian) live in a parallel, Kremlin-led reality: they barely speak Romanian, they celebrate the New Year at 11 pm, that is at the Moscow rather than the Moldovan midnight, they watch Russian television and they live with the Russian artists and pop stars. Does that echo the reality of the Russian speakers in Ukraine? 
Y. A.: Yes, I can see some similarities. These citizens are most typical for Crimea and Donbass. So it's not an accident that precisely those two regions are occupied by Russians today.
But at the same time we have a lot of Russian speakers who are "politically Ukrainians". Who fight against Russia in the Ukrainian army. Who say: Putin, hands out of my country, I want to see Ukraine independent of you and your murder. Who are pro-European very consequently.
I hope that these Russian speaking Ukrainians are the majority among Russian speakers now. They have better education and an ability to think critically and independently, so I think that the future belongs to them.
P. E.: What is the impact of Russian propaganda in Ukraine? Beyond supporting political parties, is the FSB present in the Ukrainian public sphere?
Y. A.: Probably yes. You never know how many of them are still sitting in our courts, police or prosecution. FSB is present everywhere.
But every action of Putin in Eastern Ukraine is the best antidote to his propaganda. It generally fails. Ukrainians love to laugh about it, and they do mostly do it on social networks. One can't even imagine how many Ukrainian hearts and minds Putin lost since his aggression towards us.
P. E.: The Moscow you described in your novel Moscoviad is an almost post-apocalyptic world - impersonal, grim, hollow, spiritually and creatively paralyzed if not sterile. Having studied yourself in Moscow in the early 90s, and having visited it in the past years, what are the striking differences between the two Moscows?
Y. A.: I last visited Moscow in 2005. I suspect the atmosphere is quite different nowadays. But nevertheless the time of the Moscoviad stays the best time for Moscow because it was then that the empire collapsed, and that hope for a future democratic Russia dominated.
In January 1991, after the Red Army killed people who were defending the independence of Lithuania in Vilnius, 300 or even 500 000 people attended a protest in Moscow – and they stopped the escalation. I can't imagine that happening now. That's why I wouldn't go there today.
P. E.: What do your friends from Russia think of the latest political developments?
Y. A.: I don't have many or even a few friends there. But I still have my only friend (Russian novelist, n.a.) Victor Erofeev. We recently met in Odessa, at the new international literary festival there. Victor supports Ukraine, he opposes the current Russian regime. I appreciate his civic courage very much.
P. E.: In USSR writers mattered because they had the PR and the infrastructure of the regime if they supported it, or they subverted the regime and therefore expressed the freedom so many citizens longed for. In the UK, writers mostly produce - high or low brow - entertainment; the tradition for public intellectuals here is very underdeveloped. What is the writers' place in today's Ukraine?
Y. A.: Particularly young Ukrainian writers are very active socio-politically. They have denied the traditional and archaic roles of writers as "national prophets" or "spiritual leaders". Instead, they prefer to be witnesses, participants, chroniclers, reporters and narrators. They are also engaged in public initiatives to keep hope up. There's a "fashion" in Ukraine: to be optimistic and to act.
Subscribe to our mailing list: