"The goals of the state and the goals of art seldom coincide" says Aleksandr Sokurov in his latest film Francofonia, which is about the preservation of the Louvre Museum and its antiquities during WW2. The statement is also pertinent to troubled Eastern Europe and to bands Brutto and Boombox in particular, who perform at Belarus Free Theatre's I'm with the Banned this Sunday.
Brutto, formed by Belarusian front man Sergey Mikhalok of banned anarcho-syndicate Lapis Trubetskoj, who were outlawed in Belarus for signing an open letter of protest against ruler Alexander Lukashenko's imprisonment of political opponents in 2010, have released an album and had four hit singles since 2014. Ardent champions of free will and human rights, they too are banned in Belarus and Sergey Mikhalok lives in exile in Ukraine: in his former country he is considered "an enemy, a villain, a torturer and a crazy man". But the power of their songs live on: former Lapis Trubetskoj's "Warriors of light" became an anthem for freedom on the barricades during the Maidan Protests in Ukraine, where protestors, desiring closer ties with Europe, clashed with police. 106 people were killed, the events sparking the collapse of the pro Moscow government, culminating in Russia's annexation of the Crimea.
Despite cancellations of concerts in Russia and despite their songs being prevented from being played at Belshina's football matches, the newly formed Brutto are not about to let their fans down, their manifesto states:
"Partisan Rock is the music of freedom fighting! Not an ephemeral, spiritual, but real freedom enabling us to decide our own fate!
We do not want the return of the Soviet Union!
The people of Ukraine and Belarus want a complete liberation from the yoke of the Kremlin! The struggle against totalitarianism, dirty power, Putin's imperial thinking - is the most important task and the main theme of our musical resistance!"
Lapis were known for their flamboyant music videos and imagist vocabulary, Brutto are not any different: watch their politically charged promotional video for their album here. Their music retains the sometimes brutality, fantasy and colourfulness of former Lapis Trubetskoj.
Ukrainian supergroup Boombox were part of the struggle during the Madian demonstrations in Kiev in 2013- 2014. A funky groove band blending elements of reggae, hip hop, rock, funk and jazz, their iconic song Злива (Rain) which remembers those killed in the Madian demonstrations, became a rallying cry for freedom when major Ukrainian TV channel 1+1 chose it as the soundtrack for a series of programs about EuroMaidan.
Consequently Boombox are banned from performing in Russia, despite their huge Russian following. They have released six albums to date: МеломанIя (Melomania) in 2005 was swiftly followed by Family Бизнес (Family Business) in 2006, which went gold. In 2007 they released Тримай (Hold It) and the single та4то became a nationwide hit. In 2008, Вахтерам was number one in the charts for more than ten weeks, picking up multiple awards, as the band started to tour internationally in Russia, Belarus and Azerbaijan, playing 130 concerts in just one year.

The fourth album entitled III was the last one released by the group as a trio. The video for the single Полiна (Polina) directed by Vladimir Yakimenko became one of the most popular music videos in Ukrainian history. In 2010, on the request of legendary Russian rock singer Andrey Makarevich, Boombox recorded the song Звезды не ездят в метро, as a tribute to Makarevich's band, Mashina Vremeni. It was much heavier than the original and topped the Ukrainian rock charts for several weeks. Boombox have previously described their music as "zhlob-rok" ("slob rock" ) because of their "slurred rhythms and junkyard values." Boombox were founded by vocalist Andrey Khlyvniuk, guitarist Andrey "Fly" Samoylo and DJ Valentin "Valik" Matijuk.
Music played a large part in Ukraine's EuraMaidan protests: a piano was set up near a line of police and whilst protesters played, the law enforcers blasted out their own recorded music. Songs can always be used to transmit political messages, or for raising awareness and using music as advocacy. There's been a tradition of rock and pop being censored by the state: particularly by the Eastern Bloc even when there's been no overtly political message. It's also true that, whilst there may be discrepancies about the intentions behind some musicians, younger audiences can and will embrace their music as symbols of social change: "given the right historical circumstances, cultural conditions, and aesthetic qualities, popular music can help bring people together to form effective political communities".
You can see for yourselves and watch Brutto and Boombox and other banned musicians and artists in solidarity, including Pussy Riot and David Gilmour, at the Belarus Free Theatre's I'm with the Banned solidarity concert at Koko, Camden, which was streamed live on BBC Arts, 18th October 2015.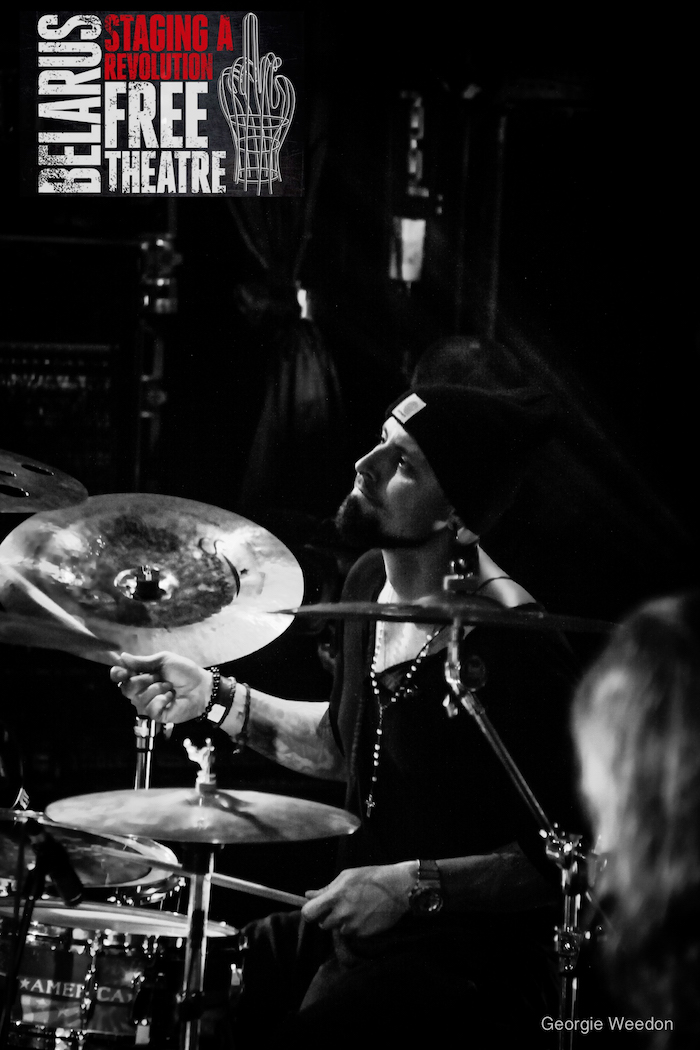 Photo Boombox on Stage by Georgie Weedon
Subscribe to our mailing list: