37-year-old Igor Podporin is charged with damaging the most valuable objects of cultural heritage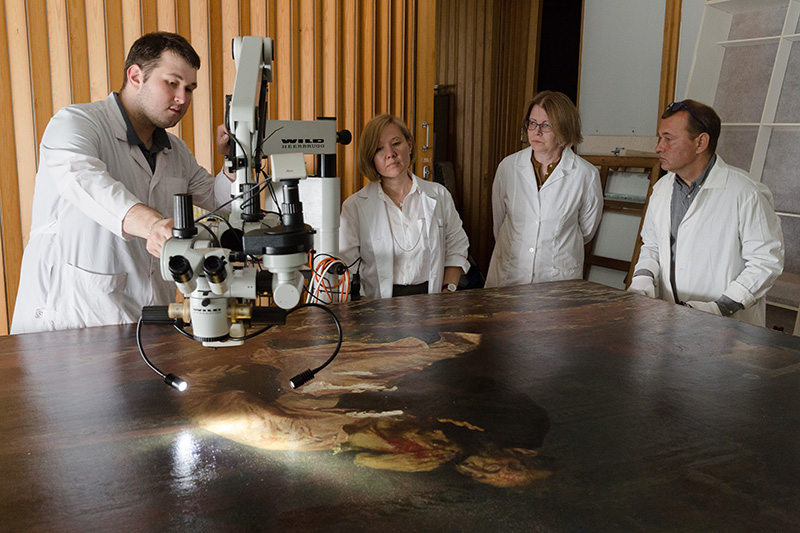 Ilya Repin's painting Ivan The Terrible and His Son Ivan on November 16th, 1581 during restoration work. Source: Tretyakov Gallery/Artguide
The prosecution asked three years in a minimum security prison for Igor Podporin, the man who seriously damaged Ilya Repin's painting Ivan The Terrible and His Son Ivan on November 16th, 1581 (1885). The prosecutor said the defendant's actions "cannot be described otherwise as barbarity. It is not the fight for historical justice, as Podporin himself claimed. You cannot do like that whether the painting documents historical reality or not. It is also not a criterion for deciding on an artwork's cultural value," Artguide reports.
A representative of the Russian Ministry of Culture testified in court that the painting is in the collection of the Tretyakov Gallery, which means it is on the list of the most valuable objects of cultural heritage.
Defendant Igor Podporin pleaded guilty to damaging an object of cultural heritage (part 1 of article 243 of the Russian Criminal Code), while investigators say his actions are classified as damaging the most valuable objects of cultural heritage (part 2 of article 243).
A mental health assessment found Podporin is sane. He explains he attacked the painting because it distorts historical facts.
The damage to the painting is estimated at at least 30 million rubles. The painting cost 1.044 billion rubles before the attack. The repair work will be sponsored by a Russian bank.
Moscow's Zamoskvoretsky Court left the defendant in custody until August 14, 2019.
Subscribe to our mailing list: